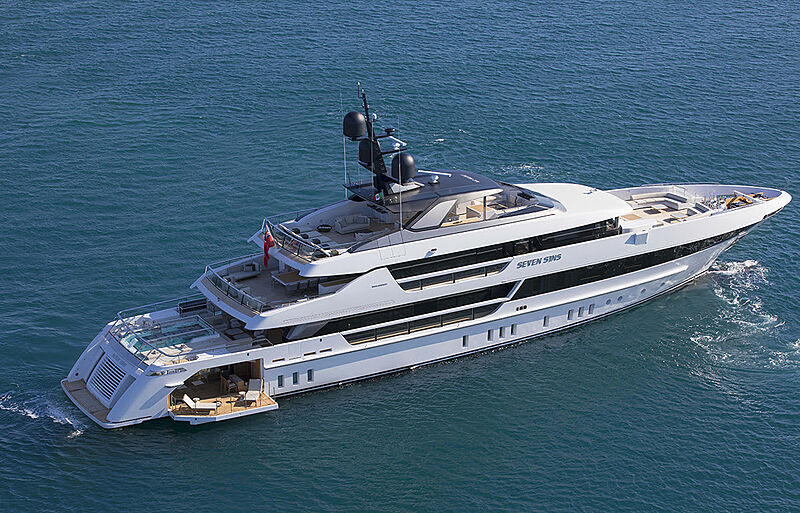 The Crypto Geniuses Who Vaporized a Trillion Dollars
The boat was a beauty of a thing: some 500 tons across 171 feet of glass and steel as white as Santorini. All rounded edges, the five decks — one with a glass-bottom pool — were made for July on the Mediterranean, sunset dinners among the islands near Sicily, cocktails in the turquoise shallows off the coast of Ibiza. Her would-be captains showed off pictures of the $50 million vessel at parties, bragging that it would be "bigger than all of the richest billionaires' yachts in Singapore" and describing plans to adorn the staterooms with projector screens, creating a waterborne gallery for their growing collection of digital art in the form of NFTs.
No matter that they had originally told friends they were shopping for a $150 million vessel; the superyacht was still the largest by well-established boat builder Sanlorenzo ever to be sold in Asia, a triumph of crypto's nouveau riche. "It represents the beginning of a fascinating journey," the yacht broker said in an announcement of the sale last year, saying it looked "forward to witnessing many happy moments aboard." The name the buyers had in mind was cleverly chosen — an inside joke nodding to the cryptocurrency dogecoin that would both thrill their social-media acolytes and be intelligible to all the pathetic, poor "no coiners" out there: Much Wow.
Her buyers, Su Zhu and Kyle Davies, two Andover graduates who ran a Singapore-based crypto hedge fund called Three Arrows Capital, never got the chance to spray Champagne across Much Wow's bow. Instead, in July, the same month the boat was set to launch, the duo filed for bankruptcy and disappeared before making their final payment, marooning the unclaimed trophy in her berth in La Spezia on the Italian coast. While she has not been officially listed for resale, the intimate world of international super-yacht dealers has quietly been put on notice that a certain Sanlorenzo 52Steel, the coveted Cayman Islands flag billowing above her empty balconies, is back on the market.
The yacht has since become the subject of endless memes and jokes on Twitter, the functional center of the crypto universe. Pretty much everyone in that world, from the millions of small-scale crypto holders to industry employees and investors, has watched in shock and dismay as Three Arrows Capital, once perhaps the most highly regarded investment fund in a burgeoning global financial sector, collapsed in excruciating and embarrassing fashion. The firm's implosion, a result of both recklessness and likely criminal misconduct, set off a contagion that not only forced a historic sell-off in bitcoin and its ilk but also wiped out a wide swath of the cryptocurrency industry.
Crypto companies from New York to Singapore were the direct victims of Three Arrows. Voyager Digital, a publicly traded crypto exchange based in New York that once had a multibillion-dollar valuation, filed for Chapter 11 in July, reporting that Three Arrows owed it more than $650 million. Genesis Global Trading, headquartered on Park Avenue, had lent Three Arrows $2.3 billion. Blockchain.com, an early crypto company that provided digital wallets and evolved into a major exchange, faces $270 million in unpaid loans from 3AC and has laid off a quarter of its staff.
Among crypto's smartest observers, there is a widely held view that Three Arrows is meaningfully responsible for the larger crypto crash of 2022, as market chaos and forced selling sent bitcoin and other digital assets plunging 70 percent or more, erasing more than a trillion dollars in value. "I suspect they might be 80 percent of the total original contagion," says Sam Bankman-Fried, who as CEO of FTX, a major crypto exchange that has bailed out some of the bankrupt lenders, has perhaps more visibility on the problems than anyone. "They weren't the only people who blew out, but they did it way bigger than anyone else did. And they had way more trust from the ecosystem prior to that."
For a firm that had always portrayed itself as playing just with its own money — "We don't have any external investors," Zhu, 3AC's CEO, had told Bloomberg as recently as February — the damage Three Arrows caused was astonishing. By mid-July, creditors had come forward with more than $2.8 billion in claims; the figure is expected to balloon from there. Everyone in crypto, from the largest lenders to wealthy investors, seemed to have lent 3AC their digital coins, even 3AC's own employees, who deposited their salaries with its "borrowing desk" in exchange for interest. "So many people feel disappointed and some of them embarrassed," says Alex Svanevik, the CEO of Nansen, a Singapore-based blockchain-analytics company. "And they shouldn't because a lot of people fell for this, and a lot of people gave them money."
That money appears to be gone now, along with the assets of several affiliated funds and portions of the treasuries of various crypto projects 3AC had managed. The true scale of the losses may never be known; for many of the crypto start-ups that parked their money with the firm, disclosing that relationship publicly is to risk increased scrutiny from both their investors and government regulators. (For this reason, along with the legal complexities of being a creditor, many people who spoke about their experiences with 3AC have asked to remain anonymous.)
Meanwhile, the unclaimed yacht looms as a slightly ridiculous avatar of the hubris, greed, and recklessness of the firm's 35-year-old co-founders. With their hedge fund in the midst of chaotic liquidation proceedings, Zhu and Davies are currently believed to be in hiding. (Multiple emails to them and their lawyers requesting comment went unreturned, except for an automatic reply from Davies that reads, "Please note I am out of office at this time.") For an industry constantly defending itself against accusations that cryptocurrency is, at its heart, a scam, Three Arrows seemed to prove the antagonists' point.
Zhu and Davies are two ambitious young men, by all descriptions exceedingly smart, who appeared to understand the structural opportunity of digital currency rather well: that crypto is a game of creating virtual fortunes out of thin air and convincing other humans with traditional forms of money that those virtual fortunes deserve to be real-world ones. They built social-media cred by playing the part of billionaire financial geniuses, translated that to actual financial credit, then put billions of dollars in borrowed money to work in speculative investments they could cheerlead to success with their large, influential platforms. Before you know it, the pretend billionaire is a real billionaire shopping for super-yachts. They grokked the game, and the plan worked perfectly — until it didn't.
Source: Intelligencer