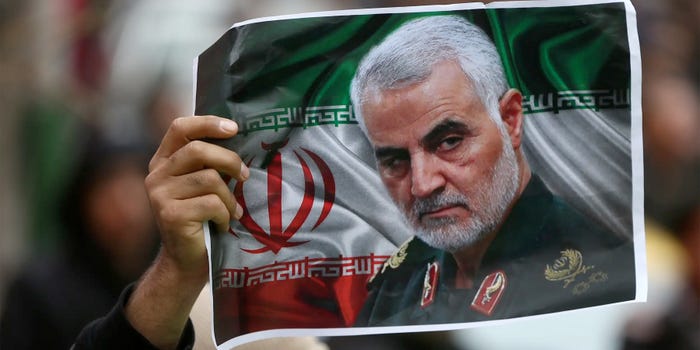 Iranians marked the second anniversary of the death of Islamic Revolutionary Guard Corps Quds Force commander Qasem Soleimani on Monday. Soleimani and Iraqi Popular Mobilization Forces deputy commander Abu Mahdi al-Muhandis were killed in a US drone strike at the Baghdad International Airport on 3 January 2020.
Tehran has identified 125 persons, mostly members of the Trump administration, suspected of involvement in the "terrorist act" assassination of anti-terror commander Qasem Soleimani, Kazem Gharibabadi, Iran's deputy chief of the judiciary for international affairs, has said.
"The Islamic Republic of Iran is determined to cooperate with Iraq, as the country where the crime took place, to identify all perpetrators, sponsors, and plotters, and bring them to justice," Gharibabadi said, speaking to Iranian television Sunday night."The Iraqi government has filed a case in this regard, and we have had interactions with Baghdad. General Soleimani, as the flag-bearer of the fight against terrorism, was an Iranian citizen and therefore we will handle this case according to [Iran's] Islamic Penal Code," the official clarified.
Gharibabadi stressed that "General Soleimani was on a non-military operation on the night of his martyrdom," and that his killing could be characterised as a "crime against humanity."
"No individual, institution, country, or political faction involved in the assassination of General Soleimani can be able to enjoy immunity," the official said.
Baghdad's investigative court put an arrest warrant out on former president Donald Trump in January 2021. Iran issued a similar warrant against Trump and 35 other individuals in mid-2020, but Interpol dismissed the Islamic Republic's calls for assistance, citing the case's supposed "political" nature.