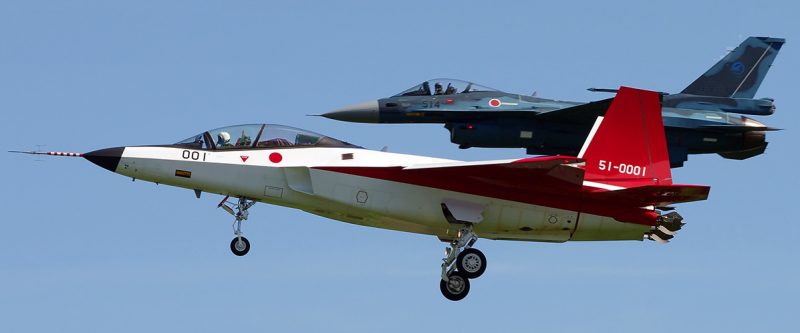 Japan Plans To Spend $48 Billion To Field F-X Stealth Fighters By 2035 That Would Outperform F-35 And Chinese Fighters.
Last week, Japan's Nikkei newspaper revealed new details of Tokyo's ambitious plans to domestically develop a sixth-generation F-X stealth fighter that can keep China's increasingly capable air force at bay—at an estimated program cost of over 5 trillion yen ($48 billion).
A development timeline foresees construction of a prototype in 2024, with a first flight to follow in 2028. Series production of the F-X (sometimes dubbed the F-3) would begin in 2031, with entry into service following in 2035. The Japanese Air Self Defense Force would procure around 90 of the advanced stealth fighters.
The twin-engine F-X will integrate advanced technologies including remote drone control capabilities, a VR-style helmet-mounted display, and a radar that can double as a microwave weapon to fry enemy missiles. It will be designed to exchange sensor data with Japanese and U.S. forces, and have a capacity for at least six internally-stowed weapons, including air-to-ground and anti-ship missiles—though air-to-air will be its primary mission.
However, Japan isn't going entirely solo on its domestic stealth fighter. Tokyo confirmed in December that F-35 manufacturer Lockheed-Martin will be its primary international partner. And Japanese engineers would still also like input from Northrop-Grumman and British defense giant BAE if they're amenable.
Tokyo's timeline may seem optimistic given the lengthy development cycle and numerous delays that plagued the fifth-generation U.S. F-35 stealth jet. However, Japan's Ministry of Defense may hope its starting ahead of the game thanks to extensive domestic research of component technologies, including tests of radars, engines, networking systems and even a flying stealth demonstrator jet called the X-2 Shinshin with thrust-vectoring engines.
Tech transfers from Lockheed, BAE or Northrop-Grumman may also shorten the F-X development cycle, as might agile development methods leveraging computer simulation capabilities.
Over the last decade, consternation has mounted in Tokyo as China's military aviation has surpassed Japan's Air Self Defense Force not only in quantitative terms (currently by a roughly 6:1 ration in combat aircraft), but also by some qualitative metrics as Beijing deploys stealth aircraft and replaces more and more of its Cold War-era jets with capable 4.5-generation multi-role fighters like the J-10 and J-11B.
Furthermore, Chinese and Russian fighters and bombers have sustained extremely frequent probes around Japanese airspace, threatening to exceed the JASDF's ability to respond to every intrusion. These have resulted in tense encounters over the Pacific, including a four-way aerial confrontation in 2019 over disputed isles which also involved the South Korean military.
These circumstances have left Tokyo eager for a next-generation air superiority fighter that could replace its 97 F-16-derived F-2 fighter in the 2030s, and the older half of its roughly 200 F-15Js currently being retired.