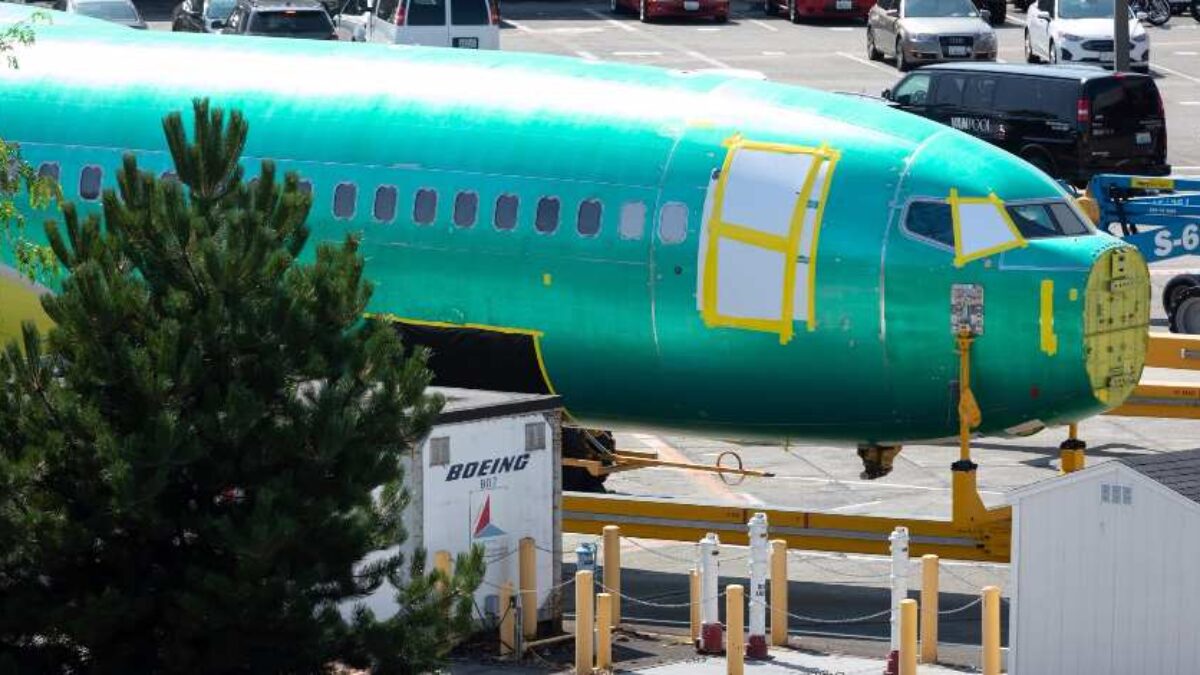 The devastating airline downturn effectively paralyzed Boeing's passenger jet business in May. For the month, Boeing delivered a paltry four military airplanes, not one of those a passenger jet, and only took in new orders for a net gain of five freighter jets.
But order cancellations for passenger jets – especially the still-grounded 737 MAX – far exceeded those numbers, according to order data Boeing released Tuesday.
Customers outright canceled 14 MAXs, while Boeing had to remove from its official backlog a further 80 MAX orders that are no longer deemed solid enough to meet U.S. accounting standards.
Some of those 80 officially dubious orders come from airlines that may want to void their contracts and can do so due to the delay in delivering the planes. Others are from customers under such severe financial stress with the collapse of air travel that they are no longer creditworthy.
Some of the formal MAX cancellations came from major airplane lessors. GECAS, the airplane leasing unit of GE, canceled four; Aviation Capital Group canceled three; and Avolon canceled one. Boeing declined to identify the customers for the remaining six formal cancellations.
At the Renton plant, where Boeing is still prohibited from delivering any MAXs, in May it delivered just one 737-based P-8 anti-submarine naval surveillance military plane.
And from the Everett widebody jet plant, it delivered one 767 freighter airplane to UPS and two 777 freighters to China Southern. Those orders suggest air freight operators are bullish about demand for cargo jets even beyond the current surge, which is driven in large part by the absence of the typical cargo space available in the bellies of all the grounded passenger aircraft.
Notably, not a single 787 Dreamliner was delivered either from Everett or from Boeing's plant in South Carolina, even though the slowed production is still nominally supposed to be 10 of these jets per month.
Worldwide travel restrictions and other logistical challenges must have prevented some customers from getting here to take their airplanes, while others deferred delivery due to lack of business.
Boeing canceled one 747-8 freighter and two 777 freighters for Russian cargo carrier Volga-Dneper and sold them to other customers.
UPS took the 747-8 jumbo jet order that was previously ordered by Volga and is set for delivery soon. However, it also canceled one of its previous orders for the same plane that was scheduled for later delivery, so the net impact is still one order lost to the 747 order book.
Boeing removed all three former Volga orders from its "dubious orders" category and returned them as new customer orders to the firm backlog count.
Boeing removed all three former Volga orders from its "dubious orders" category and returned them as new customer orders to the firm backlog count.
In comparison, Airbus in May delivered 24 jets, bringing its total for the year to 160.
The Airbus advantage in deliveries is largely due to Boeing's 737 MAX being grounded, as the European planemaker delivered 18 of the rival A320 jet family. Airbus also delivered two A220-300s and four A350 widebody jets.
Airbus won no new orders in May, but also suffered no cancellations.
The Airbus backlog now stands at 7,621 airplanes.
Update: Qatar Airways Won't Take Its Order For 30 Boeing 737 MAXs
Qatar Airways has told Boeing that it won't be taking up its order for 30 Boeing 737 MAX aircraft, according to the airline's CEO, Akbar al-Baker. He mentioned that the airline now does not need the type, following the withdrawal of its investment in the aircraft's target airline.
Qatar recently issued a threat to both Boeing and Airbus against resisting deferrals. This was again repeated in the interview with Sky News, as Al Baker said,
"If they don't oblige to our requirements then we will have to review our long term business relationships with both of them."
Boeing Delivers First Next-Gen Super Hornets to Navy
Boeing has delivered the first set of souped-up F/A-18E/F Block III Super Hornets to the Navy for flight tests, the company announced June 17.
One of the two jets is a single-seat E model and the other is a two-seat F model. They will be used to conduct carrier suitability and integration testing of all mission system components, and facilitate air crew familiarization with the platform, according to a press release. The announcement comes about a month after Boeing conducted its first flight test of the aircraft on May 14.
The Block III variant will include five major upgrades compared with the Block IIs currently in the Navy's inventory, Jennifer Tebo, Boeing's director of development for F/A-18 and EA-18G programs, noted during a teleconference with reporters. Some observers have described it as a "4.5-gen" aircraft to suggest that it will be superior to legacy fourth-generation planes but not quite as advanced as fifth-generation aircraft such as the F-35 joint strike fighter.
The new-look Super Hornet will include conformal fuel tanks with an additional 3,500 pounds of fuel that will give it lower drag and increased range. The new variant has been designed to meet a Navy requirement that the additional fuel not have a negative impact on speed or maneuverability, Tebo noted.
The aircraft will have a lower radar cross-section than previous Super Hornet configurations, making them less observable to enemy radar. Additionally, the fighter's service life will be extended from 6,000 hours to 10,000 flight hours.
It also features an advanced cockpit system. "That is taking the federated legacy displays of the Block II and putting them all into one big touchscreen piece of glass that's almost like iPad interface for the pilots," Tebo said.
The platform be equipped with an advanced networking infrastructure and distributed targeting process network with open architectures to enhance information sharing and situational awareness among the fleet.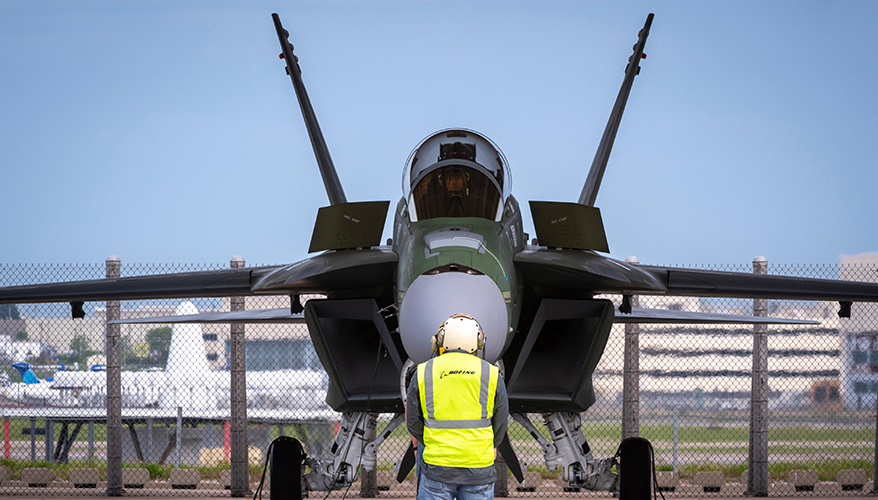 Boeing F/A-18E Super Hornet test aircraft delivered to Blue Angels Squadron
Boeing has delivered the first F/A-18E Super Hornet test aircraft to the US Navy's (USN's) Blue Angels display team.
The aircraft is to enter flight test and evaluation at NAS Patuxent River in Maryland. The company plans to deliver a total of 11 aircraft to the flight demonstration squadron in 2020.
"The validation and verification aircraft will not be painted in the familiar blue and yellow paint scheme until flight testing is complete," says Boeing.
The Blue Angels currently fly legacy F/A-18 Hornets, which have been in use since 1986. The service's last operational F/A-18C made its final active-duty flight in October 2019. However, the US Marine Corps plans to fly the Classic Hornet until 2030, after which the Lockheed Martin F-35 will replace the aircraft.
The incoming Super Hornet has 40% greater range, will be 25% larger and can carry more weapons than the classic Hornet.
Final assembly of the baseline fighter is performed in St. Louis, Missouri. Boeing converts Super Hornets into Blue Angels aircraft at its Cecil Field facility in Jacksonville, Florida.
"Major modifications include the addition of an oil tank for the smoke-generation system, fuel systems that enable the aircraft to fly inverted for extended periods of time, civilian-compatible navigation equipment, cameras, and adjustments for the aircraft's centre of gravity," says the company.