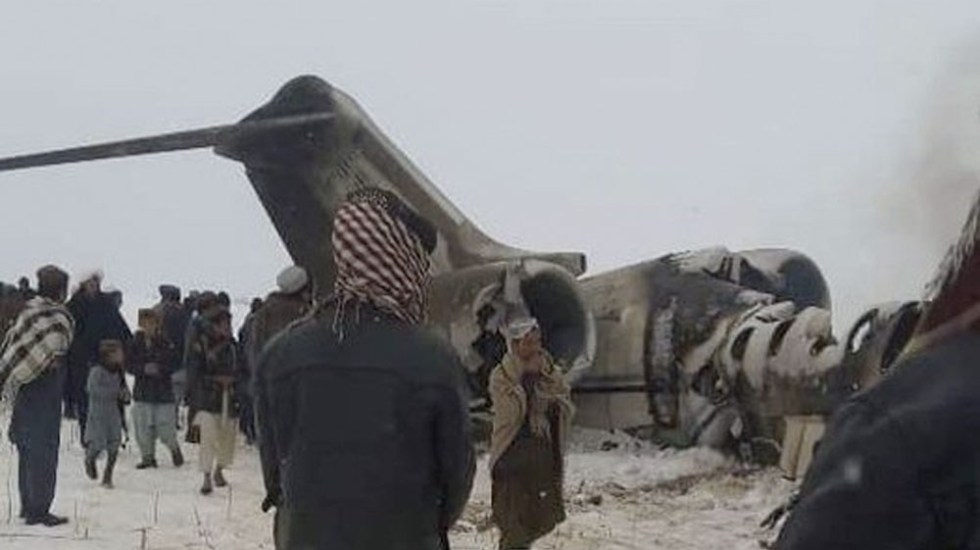 Airliner crash originally reported by Afghan media now appears to be a USAF spy aircraft.
Wreck of plane crashed today in Afghanistan looks like to be a USAF Bombardier Global Express 6000 / E-11A "BACN" (Battlefield Airborne Communications Node).
Four U.S. E-11As are assigned to the 430th Expeditionary Electronic Combat Squadron and operate usually from Kandahar AB.
Taliban Claims It Shot Down US Spy Plane Over Afghanistan.
The Taliban is now claiming that all U.S. military personnel on the U.S. Air Force's E-11A BACN plane were killed.
Taliban spokesman Zabihullah Mujahed said, "a special American aircraft which was flying over Afghanistan for an intelligence mission was technically shot down by the Taliban."
Mujahed said the crash occurred in the Taliban-controlled Sado Khel area of the Deh Yak district in Ghazni province on Monday.
He added that "all on board including high-ranking CIA officers were killed."
In a stunning breaking development, video and images from the crash site of a downed aircraft in Afghanistan appears to show that an Air Force airborne communications jet has crashed. The Taliban is claiming responsibility while further saying "high ranking US military personnel" and "CIA members" were on board, though this is not verified.
"A U.S. Air Force's E-11A BACN (Battlefield Airborne Communications Node) crashed during the morning on Jan. 27, 2020 in Afghanistan," aircraft analysis site The Aviationist writes, noting identifying features from local video. "The mishap happened in the Taliban-controlled area in Dih Yak, Ghazni. Early reports identified the jet as a passenger aircraft from Ariana Afghan Airlines, but the company immediately denied the reports."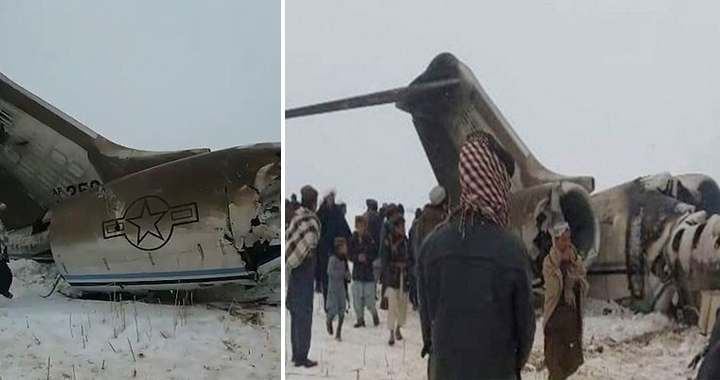 Other independent aviation and military analysts were quick to agree that it's an Air Force surveillance and communications aircraft, after international headlines described that a "mystery crash" occurred over Taliban-controlled territory.
It's unclear how many crew members and personnel were on board, but local footage doesn't appear to show survivors. Local Afghan government officials have confirmed a plane went down. CBS is reporting the bodies of at least two crew members have been found among the wreckage. The US Army is said to be investigating.
A plane crashed in the central Afghanistan province of Ghazni on Monday, killing everyone on board, according to a local official.
The number of people on board was not immediately known, nor was the cause of the crash.
There's early conflicting reports over whether it was an accidental crash, or if a Taliban surface-to-air missile possibly downed the aircraft. The Taliban now appears to be claiming responsibility.
Kabul-based journalist Tariq Ghazniwal has cited an unverified Taliban statement saying that an "Enemy intelligence aircraft crashed in Sado Khelo area of Deh Yak district Ghazni noon hours today resulting in all crew and high-ranking CIA members killed.
However, this remains unconfirmed.
CBS' Ahmad Mukhtar confirms a transport plane crashed in Afghanistan and NOT ARIANA AIRLINE. Body of 2 pilots (both foreigners) recovered & the plane is completely destroyed in the crash. It was likey a spy plane.
There are conflicting reports at the moment, CBS' Ahmad Mukhtar tweets that Ariana Airlines rejects the reports of a crash and insists all flights are operating normally.
Ariana Afghan Airlines' acting CEO Mirwais Mirzakwal told Reuters, "there has been an airline crash but it does not belong to Ariana because the two flights managed by Ariana today from Herat to Kabul and Herat to Delhi are safe."
Picture: A mint new Bombardier E-11 BACN