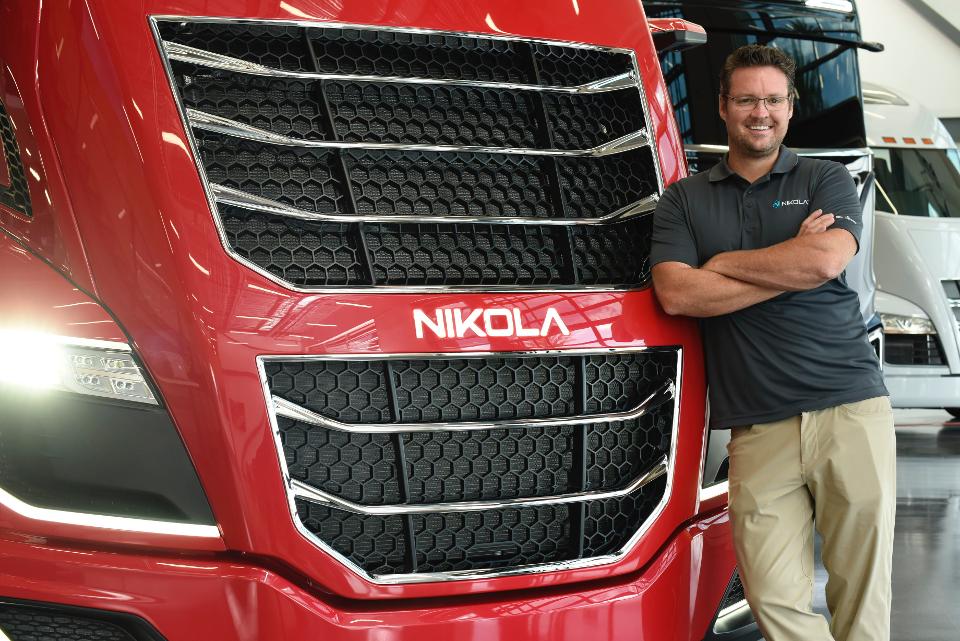 Vaporware company NIKOLA Motor, the Phoenix-based startup that wants to disrupt trucking with futuristic electric semis powered by hydrogen, says it's developed a new type of battery cell with double the energy density, only 40% of the weight and half the cost of current lithium-ion batteries used in Teslas and other consumer-market electric vehicles.
But it's not providing many details for now and public demonstrations won't happen for about 10 months.
Battery packs using the new cells, which don't use nickel, cobalt and other metals typically found in 2170 lithium-ion cells favored by Tesla, could boost range for current electric passenger cars from 300 miles per charge to as much as 600 miles with "little or no increase to battery size and weight," the company said. Nikola has subjected its cells to heavy-duty testing and says that charging and depleting them "over 2,000 times has shown acceptable end-of-life performance."
That's equivalent to driving a vehicle several hundred thousand miles, says Nikola CEO and Founder Trevor Milton, who isn't holding back in how he characterizes the new cell's potential. "This is the biggest advancement we have seen in the battery world," he tells Forbes.
For now, however, he won't provide specifics of how the cells work and which university researchers Nikola has been working with to develop them (or the battery engineering team it's acquiring to begin pre-production).
"It's the world's first free-standing electrode automotive battery," he says. "We went to a whole different type of chemical, with a lithium component. It's hard to explain what it is without giving up the secret sauce."
By avoiding using metals that add cost and weight to lithium-ion batteries Milton says Nikola's cells will be exactly half the price per kilowatt hour. Cutting down on mining for cobalt and nickel would also improve the cell's overall environmental impact. If the company can deliver such a battery, it would be a game-changer for electric cars and trucks, but he knows Nikola must show that it works as promised and can be mass-produced.
Since the late 1990s, automakers have searched for viable battery technology that could deliver range and performance equivalent to gasoline, but was still affordable. Many years of undelivered promises created considerable skepticism among auto engineers and executives, some of whom grouse about "liars, damn liars and battery suppliers."
Milton is unfazed by the skepticism and says Nikola will begin allowing evaluation of its cell tech by other companies that he declined to identify. "We've never promised something and not delivered," he says. "I don't care if they don't believe it."
Public demonstrations of batteries using its cells will happen in about 10 months at the company's "Nikola World" technology summit in Phoenix in late 2020. Milton says the company is in talks with "multiple automakers" about the cells and is likely to select one as a primary partner. Production of battery packs using the technology could begin as early as 2021. (It has already partnered with companies including Bosch, Meritor and Norway's Nel Hydrogen for its fuel cell trucks.)
Nikola has raised about $500 million to get its hydrogen fuel cell trucks into production, gaining a $3 billion valuation, and needs to raise considerably more to also build its own network of hydrogen fuel stations to power them.
Each fuel cell truck also uses a battery pack to complement the hydrogen powertrain, so any battery improvement would boost range or lower production costs. And while Nikola still views hydrogen as the best option for long-range semi-trucks, its plans to also offer battery-only variants of all three of its truck cab options would benefit from more powerful, cheaper battery packs.
Currently, Tesla has the auto industry's most efficient battery systems, in terms of range and performance. Yet the high cost of its powertrains is also why Elon Musk's company still struggles to deliver a vehicle with mass-market affordability, along the lines of Honda's Civic or the Toyota Prius in the mid- to low $20,000-range. The cheapest Model 3 sedan is the 250-mile Standard Range Plus that sells for $40,690 out the door, excluding sales tax.
Batteries add about $10,000 to the price of an EV relative to a gasoline car, according to MIT's Insights Into Future Mobility released Tuesday.
"Though battery costs have declined substantially, predictions about future price declines must be approached with caution as they often fail to account for the cost of the raw materials used to make batteries," the report said. Based on their analysis, the MIT researchers estimate the cost of lithium-ion packs won't fall to 50% of the 2018 level until as late as 2030.
So how did Nikola come across a new approach to EV batteries that Tesla and an entire industry seem to have missed?
"They were looking in the wrong place, trying to make design improvements in what was already there. We started with a completely different approach to this, that gets all those metals Milton says.
He's got until late 2020 to prove it.
Source: MIT, Forbes