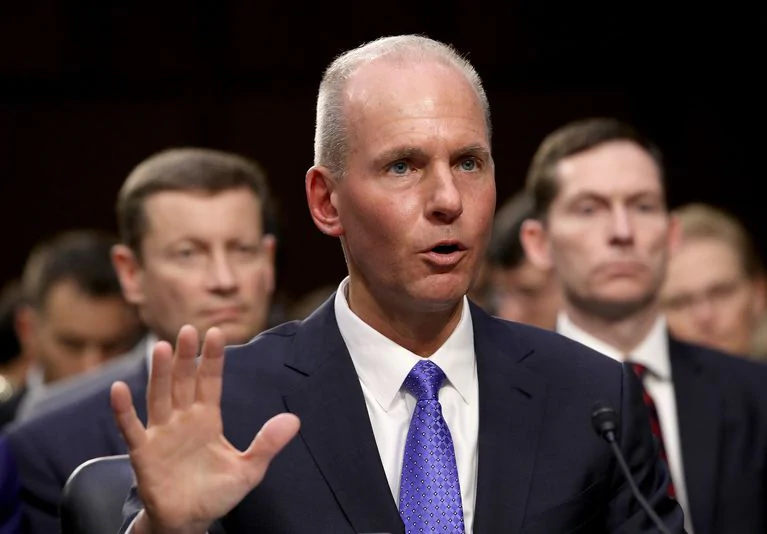 Dennis Muilenburg – CEO of Boeing grilled in front of Senate – "We Made Mistakes"
Boeing's CEO appeared before the Senate Commerce committee today to address the controversy surrounding the two fatal 737 Max crashes that took the lives of 346 people. According to Bloomberg, Chief Executive Officer Dennis Muilenburg will also address new allegations that the company withheld safety information from regulators subsequent to the crashes.
He will be the first official from Boeing to testify publicly, and the company's storied history and now-tarnished reputation (not to mention Muilenburg's job) may hang in the balance.
Muilenberg's upcoming testimony, released by the company on Monday, states: "We know we made mistakes and got some things wrong. We own that, and we are fixing them. We have developed improvements to the 737 Max to ensure that accidents like these never happen again."
Notably absent from his testimony is elaboration on how the company's design and testing broke down. However, lawmakers at a second hearing at the House of Representatives, scheduled for Wednesday, are expected to raise the issue.
Representative Peter DeFazio, an Oregon Democrat who is chairman of the Transportation Committee, said that Boeing engineers concluded that the 737 Max faced "potential catastrophe" if the safety feature implicated in the crashes activated for just 10 seconds without pilots taking notice.
DeFazio asked: "Now, that was never clearly communicated to the FAA, as far as we can tell. Was that intentional withholding or unintentional?" He made it clear that the embattled CEO will face "stern questioning".
DeFazio asked: "How did you design an airplane with a single point of failure wired to a safety critical catastrophic system? How could that ever happen? Why did it happen? What happened to your company?"
Note: Since 70's general attitude in design of aircraft is "Fail-Safe" – rule that it is not allowed to crash because one component failure.
The trip to Capitol Hill comes just about one year after the Lion Air crash that occurred in the Java Sea off the coast of Indonesia. Muilenburg visited the Indonesian embassy in Washington to meet with the ambassador and pay his "respects to those lost aboard," the company said.
Of course, it was just months after the Lion Air crash that an Ethiopian Airlines plane also crashed, slamming into a field and causing a massive controversy around the 737 Max and the plane's MCAS system, which was triggered by erroneous sensor readings in both crashes.
Muilenburg is expected to say of the 737 Max that: "…it will be one of the safest airplanes ever to fly…" when the flying ban on the model is lifted.
But Senators will have their chance at Muilenburg first.
Senator Ted Cruz is expected to focus on how the accidents happened to begin with. Cruz had previously asked: "What went wrong on the regulatory process? Why did they sign off on a training system where the pilots aren't told about this new operation that could endanger the system? And how can we fix it? How can we make it better?"
Senator Roger Wicker, a Mississippi Republican and the Commerce Committee's chairman, says he thinks there will be a legislative response to the testimony. He said: "I think there'll be some statutory fixes. Is the plane ready to go, and then what mistakes were made and what's to prevent them from happening in the future."
Muilenburg, meanwhile, admits that Boeing did a "poor job" of explaining the flight control function to pilots after U.S. regulators had agreed to omit the MCAS system from the plane's flight crew operations manual, at Boeing's request.
Muilenburg will say: "Our airline customers and their pilots have told us they don't believe we communicated enough about MCAS — and we've heard them. Boeing has worked with airlines and pilots to test its redesigned software and offer feedback on training and educational materials."