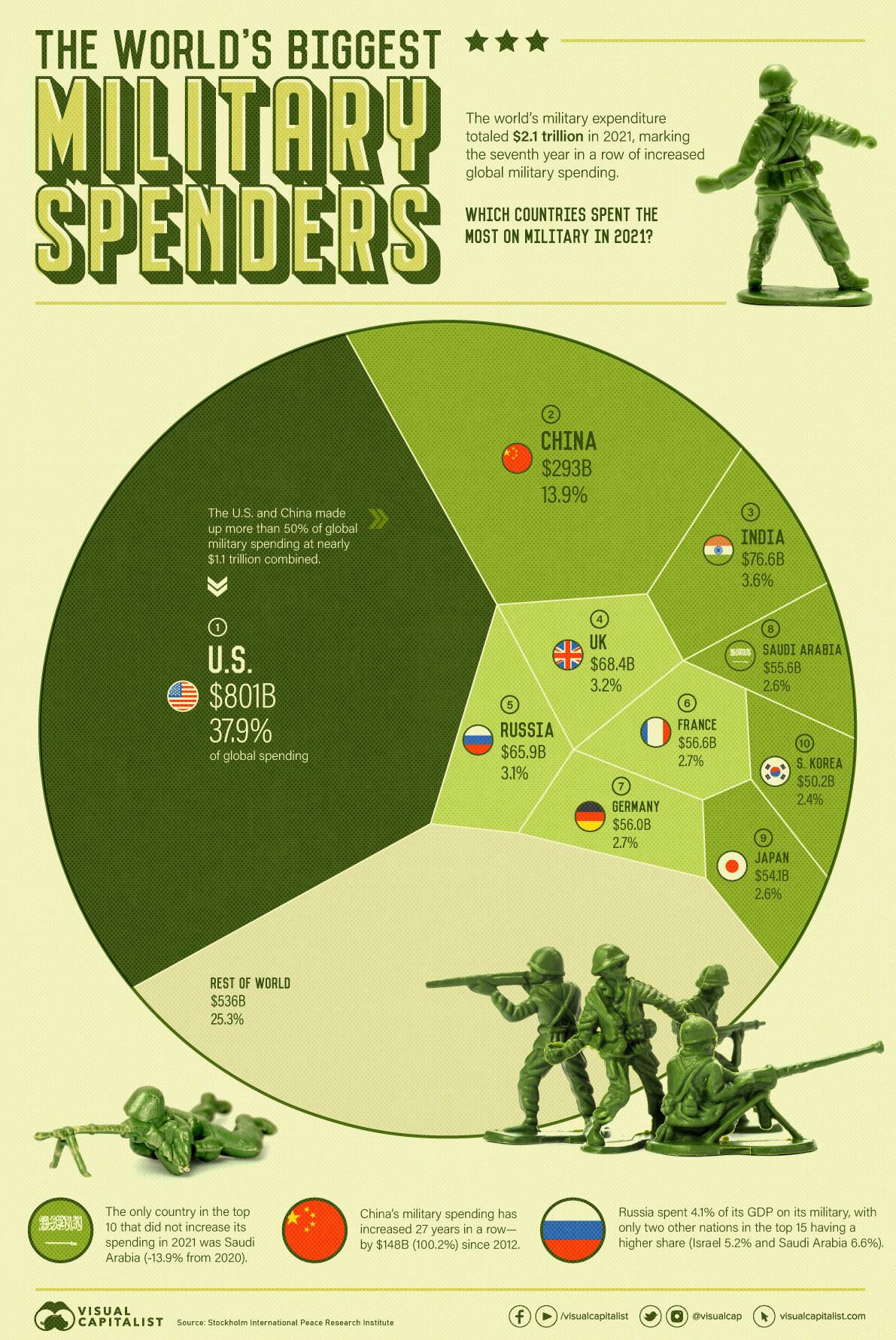 Military spending and technology has come under the spotlight as the world tracked Western arms shipments and watched how Iskanders, Kalibrs, HIMARS and other weaponry affected the conflict.
But, as Visual Capitalist's Niccolo Conte details here, developing, exporting, and deploying military personnel and weaponry costs nations hundreds of billions every year. In 2021, global military spending reached $2.1 trillion, rising for its seventh year in a row.
Using data from the Stockholm International Peace Research Institute (SIPRI), this visualization shows which countries spent the most on their military in 2021, along with their overall share of global military spending.
The United States was the top nation in terms of military expenditure, spending $801 billion to make up almost 38% of global military spending in 2021. America has been the top military spending nation since SIPRI began tracking in 1949, making up more than 30% of the world's military spending for the last two decades.
U.S. military spending increased year-over-year by $22.3 billion, and the country's total for 2021 was more than every other country in the top 10 combined.
The next top military spender in 2021 was China, which spent $293.4 billion and made up nearly 14% of global military spend. While China's expenditure is still less than half of America's, the country has increased its military spending for 27 years in a row.
In fact, China has the largest total of active military personnel, and the country's military spending has more than doubled over the last decade.
While Russia was only the fifth top nation by military spending at $65.9 billion in 2021, it was among the higher ranking nations in terms of military spending as a share of GDP. Russia military expenditures amounted to 4.1% of its GDP, and among the top 10 spending nations, was only beaten by Saudi Arabia whose spending was 6.6% of its GDP.