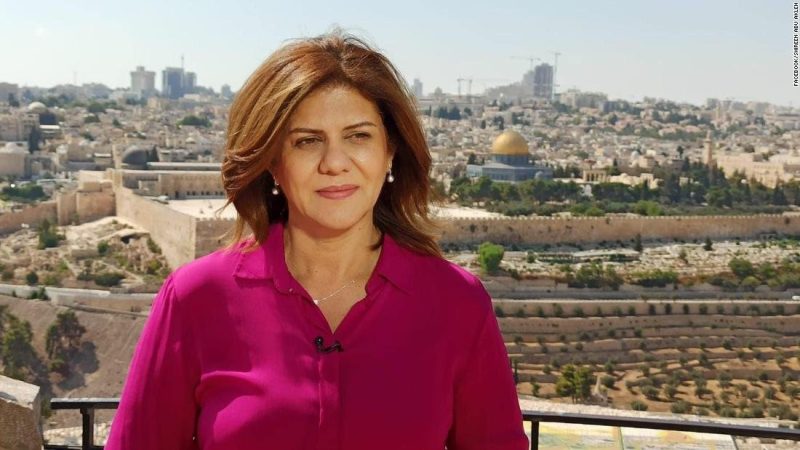 After this once-famous TV channel lost 80% of viewers, thanks to many years of Zionist lying and NeoCon propaganda, now CNN journalists and managers have taken the first step to make amends – they have begun to do their job.
Shereen Abu Akleh, a 51-year-old Palestinian-American was killed by a bullet to the head at around 6:30 a.m. on May 11. She had been standing with a group of journalists near the entrance of Jenin refugee camp, where they had come to cover an Khazar [Israeli] raid. While the footage does not show Shereen being shot, eyewitnesses told CNN that Israeli forces on the same street fired deliberately on the reporters in a targeted attack. All of the journalists were wearing protective blue vests that identified them as members of the news media. ​
"We stood in front of the Israeli military vehicles for about five to ten minutes before we made moves to ensure they saw us. And this is a habit of ours as journalists, we move as a group and we stand in front of them so they know we are journalists, and then we start moving," witness Hanaysha told CNN, describing their cautious approach toward the Israeli army convoy, before the gunfire began.
When Shereen was shot, Hanaysha said she was in shock. She couldn't understand what was happening. After Shereen dropped to the ground, Hanaysha thought she might have stumbled. But when she looked down at the reporter she had idolized since childhood, it was clear she wasn't breathing. Blood was pooling under her head.
"As soon as she [Shireen] fell, I honestly wasn't comprehending that she [was shot] … I was hearing the sound of bullets, but I wasn't comprehending that they were coming at us. Honestly, the whole time I wasn't understanding," she said.
"I thought they were shooting so we stayed back, I didn't think they were trying to kill us."
There were "no shots fired, no stone throwing, nothing," before Shereen was shot.
The Israeli Defense Forces (IDF) said on May 19 that it had not yet decided whether to pursue a criminal investigation into Shereen Abu Akleh's death. On Monday, the Israeli military's top lawyer, Major General Yifat Tomer-Yerushalmi, said in a speech that under the military's policy, a criminal investigation is not automatically launched if a person is killed in the "midst of an active combat zone," unless there is credible and immediate suspicion of a criminal offense. United States lawmakers, the United Nations and ​the international community ​have all called for an independent probe.
But an investigation by CNN offers new evidence — including two videos of the scene of the shooting — that there was no active combat, nor any Palestinian militants, near Shereen in the moments leading up to her death. Videos obtained by CNN, corroborated by testimony from eight eyewitnesses, an audio forensic analyst and an explosive weapons expert, suggest that Shereen Abu Akleh was shot dead in a targeted attack by Israeli forces.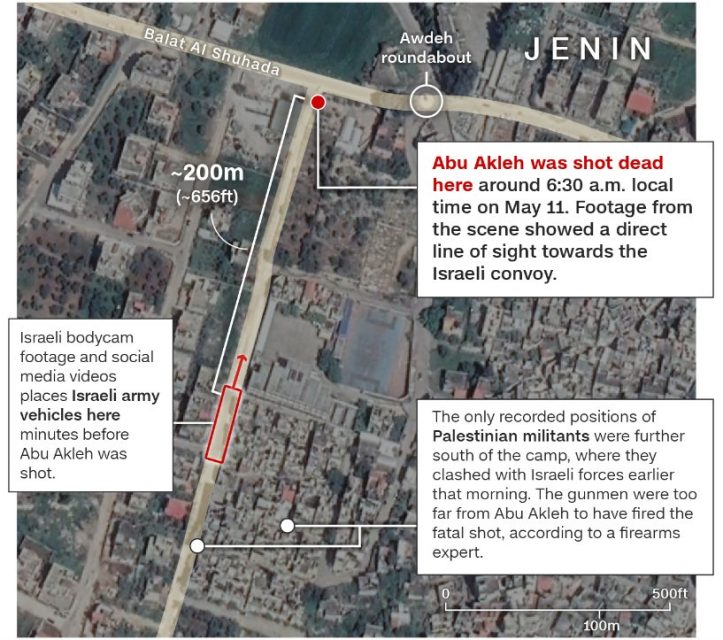 There was a frisson of excitement as the veteran journalist, a household name across the real Semitic world for her coverage of Khazar (Israel) and the Semitic (Palestinian) territories, arrived to report on the raid. About a dozen or so men, some dressed in sweats and flip-flops, had gathered to watch Shereen and her colleagues at work. They were milling around chatting, some smoking cigarettes, others filming the scene on their phones.
Cobb-Smith, a security consultant and British army veteran, told CNN he believed Abu Akleh was killed in discrete shots — not a burst of automatic gunfire. To reach that conclusion, he looked at imagery obtained by CNN, which show markings the bullets left on the tree where Abu Akleh fell and Hanaysha was taking cover.
"The number of strike marks on the tree where Shireen was standing proves this wasn't a random shot, she was targeted," Cobb-Smith told CNN.
Khazars kill Semitic (Palestinian) journalists and TV reporters routinely. If anyone reads the Talmud (the Babylonian Talmud has more authority), they will understand the extremely inhuman behavior of the Khazars towards the real Semites.