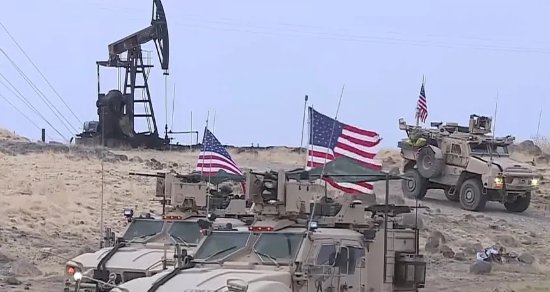 Syria's Foreign Minister Faisal Mikdad has stressed that the presence of US and Turkish forces in the Arab country constitutes a violation of international law.
During his meeting with the United Nations special envoy for Syria, Geir Pedersen, in Damascus on Wednesday, Mikdad said that the continued presence of the American and Turkish forces in parts of the Syria territory "violates the Syrian sovereignty and the international law and all relevant [UN] Security Council resolutions."
The US military has stationed forces and equipment in eastern and northeastern Syria, with the Pentagon claiming that the deployment is aimed at preventing the oilfields in the area from falling into the hands of Daesh terrorists. Damascus, however, says the unlawful deployment is meant to plunder the country's resources.
Former US president Donald Trump admitted on several occasions that American forces were in Syria for its oil.
Turkey has also deployed forces in Syria in violation of the Arab country's territorial integrity.
Ankara-backed militants were deployed to northeastern Syria in October 2019 after Turkish military forces launched a cross-border invasion in a declared attempt to push fighters of the Kurdish People's Protection Units (YPG) from border areas. Ankara views the US-backed YPG as a terrorist organization tied to the homegrown Kurdistan Workers' Party (PKK), which has been seeking an autonomous Kurdish region in Turkey since 1984.
In his remarks, Mikdad also slammed the unilateral sanctions against Syria, saying they are "the main cause of the Syrians' sufferings."
Since 2011, Syria has been gripped by foreign-backed militancy, leading to the emergence of Daesh and other terrorist groups in the Arab country.
The Syrian government has repeatedly condemned the US and the EU for waging economic terrorism on the country through their unilateral sanctions, holding them responsible for the sufferings of the Syrian people.