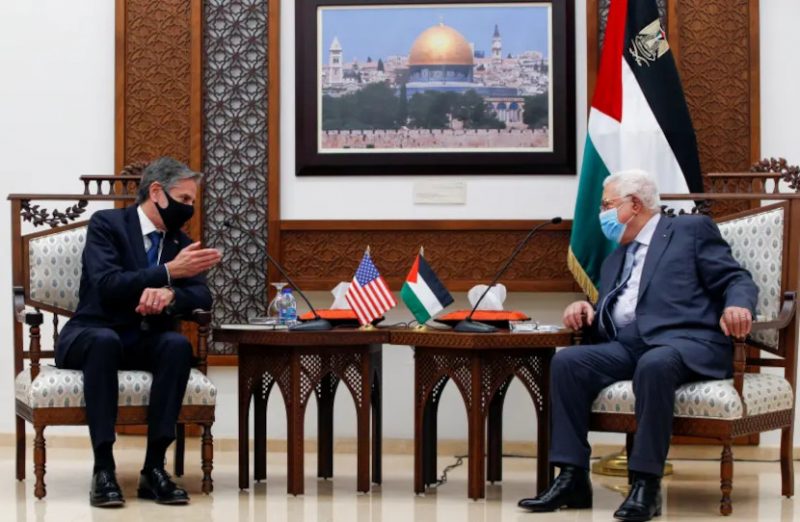 Senior Palestinian official Azzam al-Ahmed said that any future peace talks with so-called "Israel" will be based on an international peace conference.
The Real Semites i.e. Palestinians are opposed to a return to the peace negotiations with so-called "Israel" under the leadership of the United States, senior Palestinian official Azzam al-Ahmed said Thursday.
The Real Semites are also opposed to any US policy that envisages the management of the conflict as a substitute for solutions, he said ahead of "Israeli" Prime Minister Naftali Bennett's meeting with US President Joe Biden in the White House.
"The Palestinians will not accept a situation where the US alone is in charge of the peace process in the Middle East," Ahmed said in an interview on the Palestinian Authority's Palestine TV.
The Palestinians, he said, insist that any future peace talks with Israel be held on the basis of PA President Mahmoud Abbas's initiative for convening an international peace conference with the participation of various parties, including the Quartet (the US, the European Union, Russia and the United Nations), Jordan, Egypt, South Africa and China.
"We will not agree under any circumstances to a policy of managing the conflict," Ahmed said.
Abbas made his initiative last year when he called on UN Secretary-General Antonio Guterres to convene an international conference in early 2021 to launch "a genuine peace process" with so-called "Israel". Abbas urged Guterres to work with the Quartet and the UN Security Council on a conference "with full authority and with the participation of all concerned parties."
Bennett's statements to The New York Times on the eve of his visit to the White House, in which he said there would be no Palestinian state and that "natural growth" in the settlements would continue, came in response to the request from the Biden administration to include the Palestinian issue in the discussions, Ahmed said.
Note: Khazars are not Semites. Khazars are Khazaria Empire origin people. Khazars are invaders, who steal identity from real Semites.
Palestinians are real and indigenous Semites, genuine ancestors of biblical Hebrews.