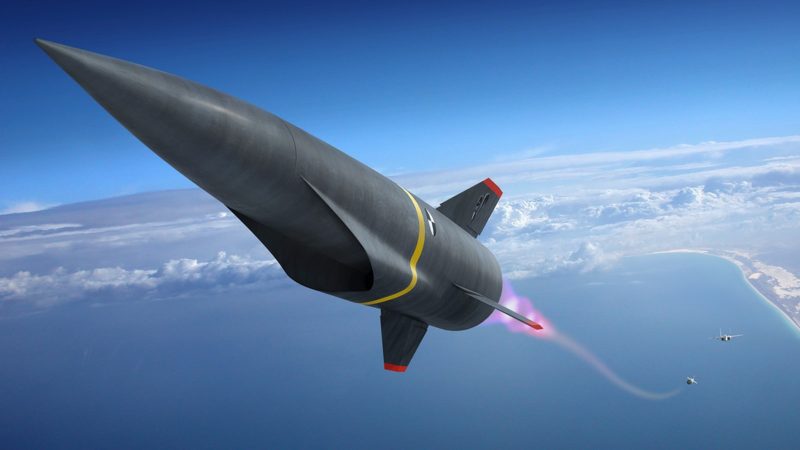 New hypersonic weapons from Lockheed Martin (ticker: LMT) and Raytheon Technologies (ticker: RTX) are ready for powered flight tests by the end of the year.
The two variants of the Hypersonic Air-breathing Weapon Concept (HAWC) have successfully flown captive carry tests, Defense Advanced Research Projects Agency (DARPA) said Tuesday.
During a captive carry test, the hypersonic weapons stay attached to an aircraft, actually a Boeing (ticker: BA) B-52 bomber. The tests collect data on the weapon in flight without having to launch it.
With those tests now completed, the weapons are ready for free-flight testing by the end of 2020.
"These tests provide us a large measure of confidence — already well-informed by years of simulation and wind tunnel work — that gives us faith the unique design path we embarked on will provide unmatched capability to U.S. forces," said Andrew Knoedler, Darpa's HAWC program manager in a release.
The next tests will focus on scramjet-powered propulsion and the thermal management needed for prolonged hypersonic flight, Darpa said in a release.
A scramjet engine uses its forward trajectory to compress incoming air, instead of relying on an oxidizer like a rocket does. Northrop Grumman's (ticker: NOC) 3D printed scramjet engine is being used on Raytheon's HAWC submission.
Hypersonic Weapons A Top Pentagon Priority
Unlike ballistic missiles with a predictable arc, hypersonic weapons fly five-seven times the speed of sound in unpredictable flight paths, making them difficult to defend against.
The technology is among the Pentagon's top priorities as China and Russia also race to field their own hypersonic weapons.
The Defense Department has also tapped Lockheed to develop a rocket-powered hypersonic weapon, the Air-launched Rapid Response Weapon.
And last month, the Air Force announced it's seeking solicitations for a separate air-breathing hypersonic weapon called Mayhem.
But in February, the Air Force announced it was canceling Lockheed's Hypersonic Conventional Strike Weapon program to focus on the Air-launched Rapid Response Weapon.