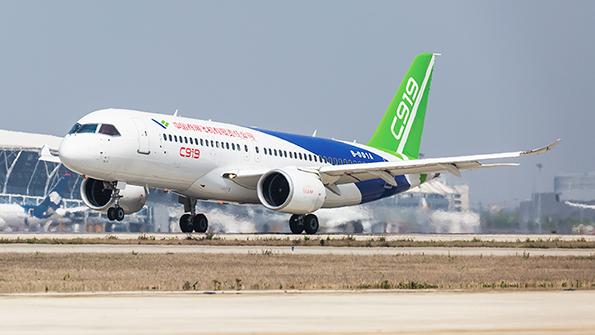 As of the beginning of this year, more than 200 extra airports were scheduled to be built in China over the next 15 years to cope with the relentless growth spurt. And, not so long ago, Boeing's 2019-2038 Commercial Market Outlook was saying that China would require 8,090 new passenger aircraft deliveries plus associated support services over the next 20 years — a market that Boeing estimated as being worth $2.9 trillion.
Meanwhile, China has developed — and is now at the stage of flight testing — a homegrown contender, the COMAC (Commercial Aircraft Corporation of China) C919.
The C919 has a range of up to 5,555 kilometers and has garnered a running total of 815 orders from 28 customers, predominantly Chinese airlines.
The C919's LEAP-1C engines are being produced by CFM, a joint venture between US engine-maker GE Aviation and Safran. The CFM LEAP-1C engine, which was selected by COMAC as the sole Western engine option for the C919, offers "a 15% reduction in fuel consumption and CO2 emissions versus current engines, and up to a 50% margin on NOx emissions," says Safran. The engines will also mitigate noise in and around the airports where the C919 operates.
COMAC has built a fleet of six prototype versions of the C919 that have been pacing through flight testing programs.