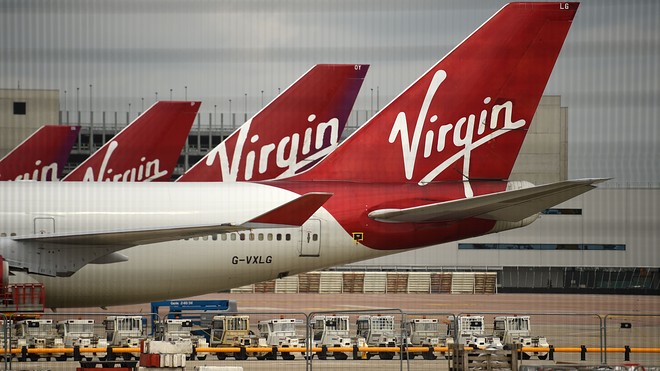 Virgin Atlantic, the European carrier founded by British entrepreneur Richard Branson, on Tuesday filed for debt relief in the U.S. as the toll of the coronavirus on the airline industry continued to mount.
The company said it is not technically bankrupt and that it plans to continue to operate as it restructures,
a process it hopes to complete by the end of September. Still, Virgin Atlantic said in a court filing that it will run out of cash and have to shut down by the end of the month if it can't reach a deal before then.
"With support already secured from the majority of stakeholders, it's expected that the restructuring plan and recapitalization will come into effect in September," a company spokesperson told CBS MoneyWatch in a statement. "We remain confident in the plan."
Virgin Atlantic, which primarily offers long-haul travel between the United Kingdom and other parts of the world, had just over 8,500 employees at the end of 2018, according to company records. It also had $630 million in cash and about $850 million in long-term debt at the time, the latest publicly available financial records for the company, according to FactSet.
The airline's problems precede the virus. In 2018, Virgin Atlantic lost nearly $75 million on revenue of $3 billion. The carrier, which is 49% owned by Delta, has sought to negotiate a $1.6 billion refinancing deal with its creditors and investors.
As part of the deal, Branson was looking to shed part or all of his stake in the airline. He had previously asked the British government for a bailout. It is the second Branson airline to seek court protection since the start of the pandemic. Virgin Australia filed for voluntary administration, another form of bankruptcy, in April.
Source: CBS