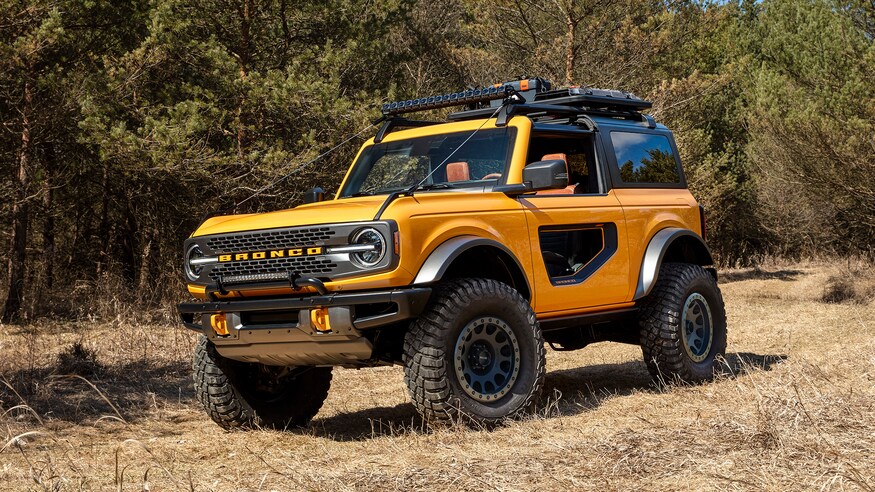 Ford unveiled its new "family" of Bronco SUVs Monday night, including two- and four-door Bronco SUVs as well as a smaller Bronco Sport SUV. The Bronco models are clearly positioned against Fiat Chrysler's Jeep brand.
Ford Motor is taking a run at the nation's No. 1 off-road seller, the Jeep Wrangler, with its highly anticipated relaunch Monday night of the Bronco SUV — a boxy utility vehicle that developed a cult following after it was discontinued in 1996.
Ford is pricing the new Bronco starting at $29,995, including destination charges, just $205 above a base Jeep Wrangler. Top-end models with additional features and equipment can top $60,000. A limited "First Edition" Bronco model starts at $60,800, according to Ford's website.
The two- and four-door Bronco models, according to Ford, are similar in size to the Wrangler, which is regularly among Fiat Chrysler's best-selling vehicles in the U.S.
The Wrangler was seventh in sales last year among all compact SUVs and crossovers, according to LMC.
Like the Wrangler, the new Bronco models feature removable roofs and doors as well as more than 200 factory-backed accessories. All Bronco vehicles, Ford said, also will come standard with four-wheel drive.
The Bronco would contribute nearly $1 billion to Ford's North American pretax earnings if sales reached 125,000 units. That's based on profits per vehicle of about $7,500. That would make the Bronco one of Ford's most profitable models.
The Bronco Sport will be powered by a 1.5-liter EcoBoost engine with a targeted 181 horsepower and 190 pound-foot of torque or a 2.0-liter EcoBoost engine projected with 245 horsepower and 275 pound-foot of torque. Both engines are paired with an eight-speed automatic transmission.
The Bronco will come standard with a 2.3-liter EcoBoost four-cylinder engine expected to deliver 270 horsepower and 310 pound-foot of torque. A 2.7-liter EcoBoost V6 engine projected at 310 horsepower and 400 pound-foot of torque also will be available. The engines are combined with a seven-speed manual transmission or 10-speed automatic transmission.
The Bronco Sport will be produced at the automaker's factory in Hermosillo Sonora, Mexico. The Bronco will be produced at a plant in Michigan.