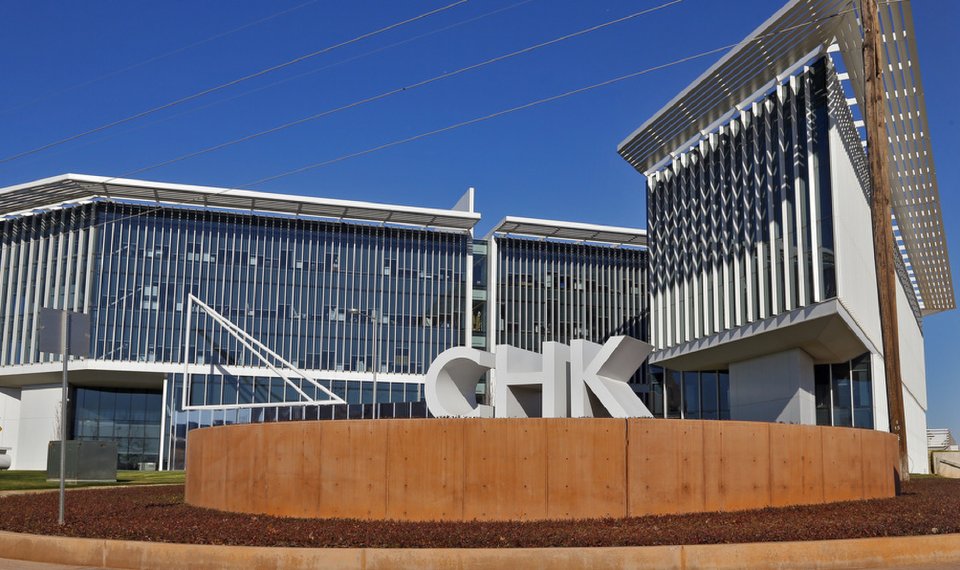 After years of melting, the Chesapeake icecube is finally history: at exactly 3:50pm on Sunday afternoon, the company that launched the US shale boom, finally gave up and filed for a pre-packaged bankruptcy in the Southern District of Texas. In so doing, the company with roughly $9.5 billion in debt has become one of the biggest victims of a spectacular collapse in energy demand from the virus-induced global recession, and follows the collapse of another high-flyer in the US oil patch, Whiting Petroleum, which filed for Chapter 11 at the start of April after championing what was once the premiere U.S. shale field, the Bakken of North Dakota.
As part of its prepack agreement, Chesapeake announced that it had entered into a Restructuring Support Agreement ("RSA") with 100% of the lenders under its revolving credit facility, holders of approximately 87% of the obligations under its Term Loan Agreement, approximately 60% of its senior secured second lien notes due 2025, and approximately 27% of its senior unsecured notes, pursuant to which Chesapeake will implement a Chapter 11 plan of reorganization to eliminate approximately $7 billion of debt.
Of course, since 73% of unsecured bondholders refused to sign off on the deal, expect a very vicious bankruptcy fight over the recoveries, as hedge funds that accumulated positions in the bonds unleash hell in their fight with the secureds (even as the equity committee claims that all classes above it should be unimpaired).
Also, we have some bad news for Jefferies, which won't be able to repeat its hilarious attempt to fund the company in bankruptcy by selling stock to Robnhood daytraders: as part of the RSA, the Company has secured $925 million in debtor-in-possession financing lenders under Chesapeake's revolving credit facility.  The DIP will provide Chesapeake the capital necessary to fund its operations during the Court-supervised Chapter 11 reorganization proceedings.
To summarize: Chesapeake which enters bankruptcy with just over $9.5 billion in debt will eliminate about $7 billion of it, and emerge with a $2.5 billion exit financing, consisting of a new $1.75 billion revolving credit facility and a new $750 million term loan. Additionally, according to the RSA, the Company has the support of its term loan lenders and secured note holders to backstop a $600 million rights offering upon exit.
Doug Lawler, Chesapeake's President and Chief Executive Officer, stated, "We are fundamentally resetting Chesapeake's capital structure and business to address our legacy financial weaknesses and capitalize on our substantial operational strengths. By eliminating approximately $7 billion of debt and addressing the legacy contractual obligations that have hindered our performance, we are positioning Chesapeake to capitalize on our diverse operating platform and proven track record of improving capital and operating efficiencies and technical excellence. With these demonstrated strengths, and the benefit of an appropriately sized capital structure, Chesapeake will be uniquely positioned to emerge from the Chapter 11 process as a stronger and more competitive enterprise."
Lawler concluded, "Over the last several years, our dedicated employees have transformed Chesapeake's business — improving capital efficiency and operational performance, eliminating costs, reducing debt and diversifying our portfolio. Despite having removed over $20 billion of leverage and financial commitments, we believe this restructuring is necessary for the long-term success and value creation of the business."
In addition to leverage, Lawler also removed all the equity value, because with $7 billion in senior debt destroyed, there is no question here: the common stock has no value and will almost certainly be delisted immediately to avoid any potential "misunderstandings" should an army of 10-year-old veteran Robinhood traders decided to ramp it up by a few hundred percent.
And speaking of the company's stock and daytrading activity, it is as if 216,915 Robinhood traders suddenly cried out in terror and were suddenly silenced.
Why? Because according to RobinTrack, some 216,915 users who held on to the stock as of April 14, and whose number has certainly surged in recent days after the stock soared as high as $84.75 on June 8 during the peak of the retail euphoria boom that sent bankrupt Hertz stock also soaring and inspired Jefferies to read this blog and come up with the now-failed attempt to sell worthless stock to Robinhooders.
That said, in a market as insanely broken as this one, it is certainly possible that CHK stock which the company admits is worth about a negative $7 billion, could surge tomorrow… just because.
Finally, some corporate history courtesy of Bloomberg:
About a decade ago, Chesapeake was a $37.5 billion giant led by the late Aubrey McClendon, a colorful and outspoken advocate for the natural gas industry, who died on March 2, 2016 in what appeared to be a suicide. It was at the forefront of the fracking revolution that transformed the U.S. oil and gas industry by setting off a scramble for previously untapped shale reserves. The company cut eye-popping checks to Fort Worth businesses and residents as inducements to drill on their land in the Barnett Shale of North Texas, America's first shale field to hit the big time.

Those heady days didn't last. U.S. natural gas slumped after the financial crisis as the frackers overwhelmed demand, and prices still haven't revisited their previous highs. Investors soured on Chesapeake, which by that point wasn't only debt-laden but saddled with a real estate empire that included shopping centers, a church, and a grocery store. McClendon was ousted in 2013 and was killed in an auto accident three years later.

In subsequent years, management sought to compensate for the decline in its gas fortunes by shifting into oil exploration as fracking turned the U.S. into the world's largest producer of crude as well as a major exporter. However, any optimism about that strategy evaporated with oil's recent price collapse amid the Covid-19 pandemic.

Lawler took over Chesapeake in 2013 with an aim of reducing its debt load that was larger than Exxon Mobil Corp.'s, a company 29 times Chesapeake's market value at the time. He had counted on capital spending cuts and asset sales to cover debt obligations. The company was in talks last year with Jerry Jones, the billionaire Dallas Cowboys owner, about a $1 billion sale of shale assets, but no deal resulted.

In May, Lawler was forced to discard his company's full-year outlook and write down the value of $8.5 billion in assets as energy demand tumbled amid the Covid-19 lockdown. By then, the producer's market value had dropped to less than $200 million.