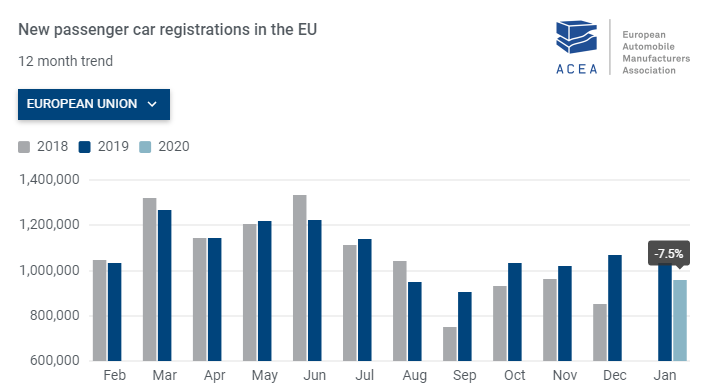 For months we have been commenting about how the global auto market is mired in recession. Most recently, we have been highlighting how China, one of the world's largest economies and auto markets, has been exacerbating things with terrible sales numbers, failed subsidy ideas, disconnect from Beijing and, obviously, the coronavirus.
Many of the new numbers out of China, including a dismal January sales number and expectations for an awful February, are being blamed on the coronavirus (despite the fact that January's number doesn't really even include the virus impact yet).
Now, the numbers out of Europe – where they can't just turn around and place the blame on the coronavirus, are looking equally as awful and are sounding a much bigger alarm about the global automotive industry. 
New car registrations fell 7.5% on the year to 956,779 vehicles. The data is ex-UK, which is no longer a part of the EU.
The ACEA data, broken down by manufacturer, shows ugly numbers for names like Renault, Daimler and FCA. Names like Toyota and BMW were able to slightly buck the trend:
VW Group sales drop 0.1% y/y; ytd down 0.1%
PSA Group sales drop 14% y/y; ytd down 14%
Renault Group sales drop 16.4% y/y; ytd down 16.4%
Ford sales drop 18.6% y/y; ytd down 18.6%
FCA Group sales drop 6.4% y/y; ytd down 6.4%
BMW Group sales rise 3.8% y/y; ytd up 3.8%
Daimler sales drop 10.1% y/y; ytd down 10.1%
Hyundai Group sales drop 3.9% y/y; ytd down 3.9%
Toyota Group sales rise 10.1% y/y; ytd up 10.1%
Nissan sales drop 0.5% y/y; ytd down 0.5%
The drop is sales is being attributed to tax changes in some member states that prompted consumers to make their purchases in December, instead of January, according to Marketwatch. Of course, we continue to attribute the drop to a global economy that is in steep decline, led by a decade of failed central bank policies that are rearing their head to remind consumers that more debt and more money printing simply isn't the answer.
The European Automobile Manufacturers Association said: "Major taxation changes announced by some EU member states for 2020 pulled registrations forward into December 2019, explaining this January drop."
"Other contributing factors included weakening global economic conditions and uncertainty caused by the U.K.'s departure from the European Union," the association continued.
Sales of ICE vehicles fell off in some markets in January, as the EU continues to try and encourage consumers to switch to EVs by using subsidies and lopping fines on manufacturers. Sweden and France, for example, both offer incentives to buyers for EVs, in addition to monitoring output from manufacturers. Perhaps their respective governments should take a look at whether their micromanagment of the market isn't contributing to the problem, instead of solving it.
The future doesn't look promising for the EU either: the ACEA forecast in January that the industry is likely to contract by 2% in 2020. 
Sweden, France, Germany and Spain all posted the ugliest numbers, with Sweden plunging 18%, France falling 13.4%, Germany falling 7.3% and Spain falling 7.6%.