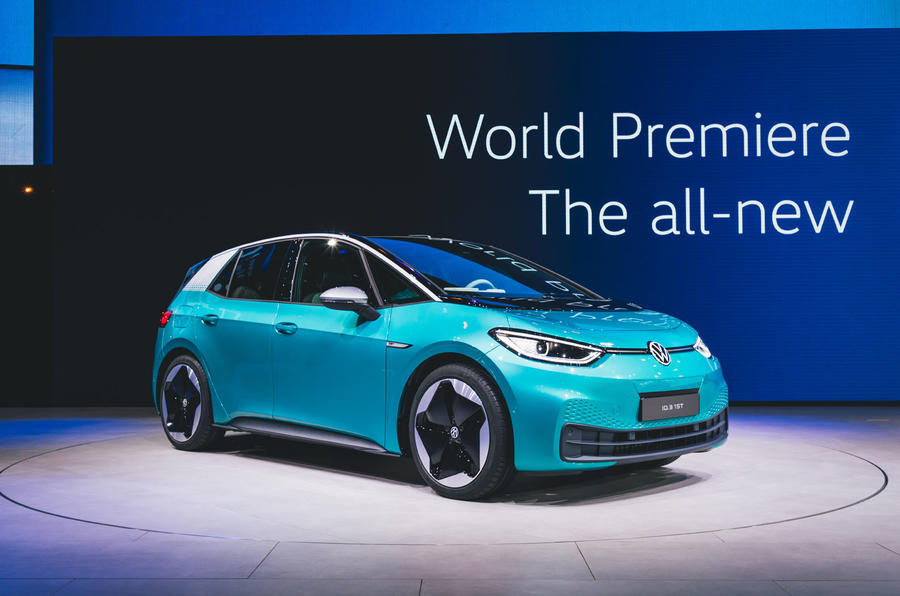 New 2020 Volkswagen ID.3: electric car arrives at Frankfurt
The VW ID.3 arrives with a choice of three different battery sizes, with top spec models offering a range of between 242 and 342 miles.
This is the Volkswagen ID.3, the German brand's first purpose-built pure-electric vehicle. It's been revealed at the 2019 Frankfurt Motor Show, and is a car that VW bosses admit could be as important as the original Beetle or the Mk1 Golf.
VW's recent electric cars, the e-Golf and e-up!, have both been based on combustion-engined cars. But the ID.3 marks the debut of the company's MEB architecture, a bespoke pure-electric platform that will eventually underpin dozens of EVs from VW and family members SEAT, Skoda and Audi.
The ID.3 is being launched in a single '1st Edition' spec with a 201bhp rear-mounted electric motor and a usable battery capacity of 58kWh. VW claims that gives the car a range of between 186 and 261 miles.
All of the 30,000 '1st Edition' variants have already been reserved, including the UK allocation. British buyers will get their vehicles next summer, around the same time that the rest of the ID.3 models go on sale. The wider range will feature a less powerful variant with 148bhp and a smaller-capacity 45kWh battery, for a range of between 143 and 205 miles – plus a range-topping edition that'll mix the 201bhp motor and a 77kWh battery. This allows the ID.3 to travel between 242 and 342 miles between charges.
Mid- and higher-spec ID.3s are expected to get 100kW fast charging as standard. This will allow around 180 miles of range to be added in half an hour. But it's likely to come as an option on the model with the smaller battery, in a bid to keep down the price; it'll probably stick with a maximum of 50kW.
Exterior and interior review: