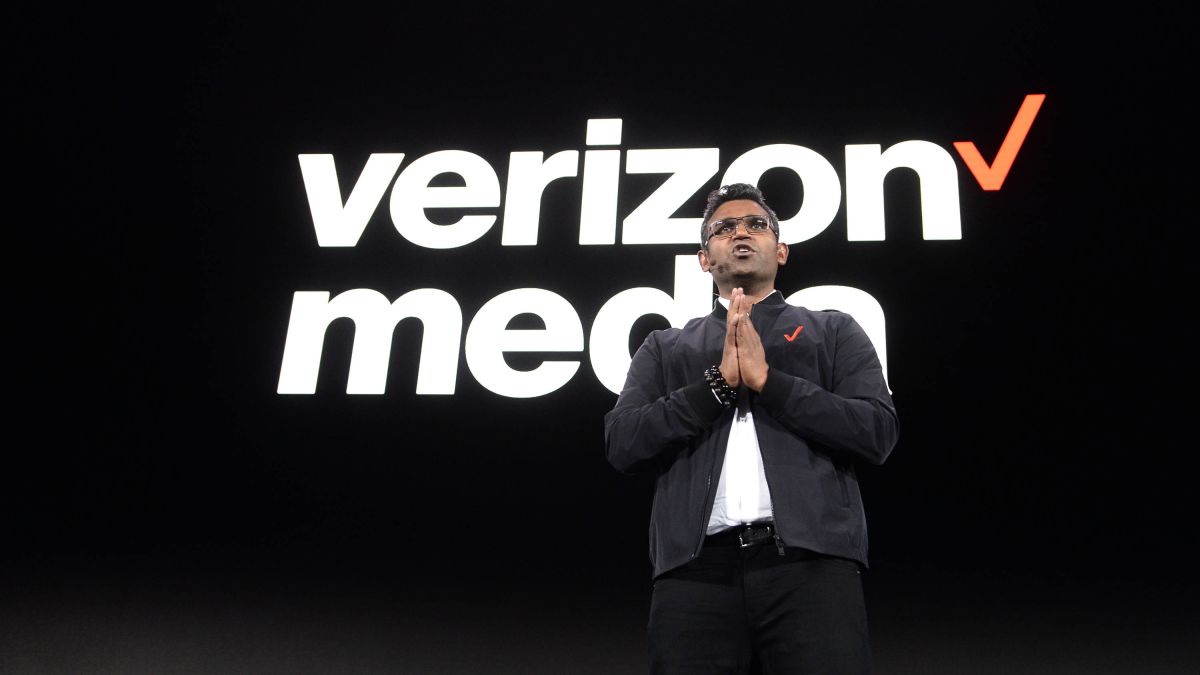 New CEO Guru Gowrappan has a big job to do after inheriting a fragmented business that is losing millions.
Guru Gowrappan has flown into Cannes via London, where he watched Australia survive a scare against underdogs Sri Lanka in the Cricket World Cup.
It would be a stretch to describe Verizon Media as an underdog in the online advertising business, but it's clear that taking on its biggest rivals is on the front of mind of the company's new(ish) chief executive.
In his first interview outside the US, Gowrappan, the fomer chief operating officer who succeeded Tim Armstrong in September last year, is at Cannes Lions to sell "Verizon 2.0" to marketers and is frank about how the company had lost its way under the previous regime.
Earlier this year, parent company Verizon announced a 7% reduction in its global workforce to 10,000, with the UK operation set to lose more than two dozen sales staff. Just last week, Companies House filings revealed Verizon Media made a £50.5m operating loss in 2018 (an improvement on the £53.8m loss it posted in 2017).
This is quite a stunning state of affairs for one of the world's biggest advertising companies. And yet it continues to pull further behind the runaway juggernauts of Google and Facebook.
Premium content by publishers
Verizon Media, the digital media arm of the US telecoms conglomerate that used to be known as Oath following the merger of AOL and Yahoo, now seeks to differentiate itself by offering online ads around premium content by publishers, as opposed to the user-generated content of social media.
In other words, Verizon Media is betting that brands are prepared to pay more for being brand-safe.
And, according to Gowrappan, Facebook and Google are becoming expensive anyway: "When you think about YouTube, when you think about Facebook – the big thing you're seeing is they are becoming expensive platforms. As a marketer, it has become more and more expensive to be on these platforms rather than acquire a new consumer or re-engage an existing consumer."
Verizon's chief marketing officer, Diego Scotti, took this argument further in an appearance on the "Waking up with The Economist" panel at Cannes that morning. "We, as advertisers, have become lazy. Really really lazy," Scotti said. "It has become a game of tarnish or how do I get the lowest cost per reach and just put stuff that nobody wants to see or watch."
Citing consumers that choose to pay more for ad-free options on services such as Netflix, Scotti added: "People are actually paying to not have the ad-enabled option, so then what are we going to do? Bombard you more on the places that you don't care about? I think that's the issue; I'm less worried about ad-blocking and more worried that if we don't raise the bar creatively and how we reach customers, we have no business."
Greater transparency
An important part of Verizon Media's "premium" strategy will be offering a demand-side platform that can provide advertisers with greater transparency and targetability. Earlier this month, the company announced that machine learning would enable it to do this.
This is why Gowrappan's first year as chief executive has been all about breaking down silos (along with an uncomfortable period of downsizing and declines in revenue). Having held senior roles at more nimble tech companies such as Alibaba (global managing director) and Zynga (chief operating officer, Japan), you can hear pangs of frustration when he describes how Verizon Media used to be "clunky" and difficult for media agencies to buy from.
"You go back to the old days, Yahoo and AOL days, right – we had six or seven different platforms," Gowrappan sighs. "So the most of last 18 months was in integrating those platforms."
Verizon Media can now turn to machine learning to improve ad-targeting. Better targeting means more opportunities to charge premium prices across Verizon Media's owned inventory, as well as allowing online marketers to optimise their campaigns in real time and set better prices in bidding auctions for online ads.
"Should I go to finance as an example, to spend more for this pretty good consumer type in this vertical versus go broad, and yahoo.com or Yahoo and AOL ecosystem. It's going to give you a better optimiser in a way because now we have better feedback."
However, there are only two veritable battlegrounds in which Verizon Media is a credible rival to Google: email (Yahoo mail is still the third-most-popular email service in the world behind Google and Microsoft's Outlook) and search (powered by Microsoft's Bing, the world's second-most-popular search engine, albeit some distance behind Google).
Verizon Media is now talking about developing a "member-centric" ecosystem in which "overlaps" – such as a Yahoo News user who also uses Sports and Finance, for example. That insight led to the launch last year of In The Know by AOL, a short-form news video brand that pitches itself as a rival to NowThis.
User-centric
The problem he inherited as chief executive, Gowrappan explains, is that Verizon Media was structured around its products rather than how internet users behave.
He explains: "When you are sorted by product, you're running individual P&Ls. So, in the end, if I am Yahoo Finance, I care about just me. I don't care about how it impacts the entire quality ecosystem of Verizon Media."
This de-siloing process is also impacting Verizon Media's overall strategy by getting the company's brands to think about "overlaps", for instance, in audience data.
"Let's take audience segments," Gowrappan explains. "Take Gen Z, or kind of early millennial or late millennial segments – we follow that journey now. So Gen Z, OK, I know you're looking for personal finance, tips and tools and all of that in a certain way. But we also know that you're not going to buy stock, you know, through Yahoo Finance; you're going to go through a different platform and do it, or you're going to interact with Instagram a lot."