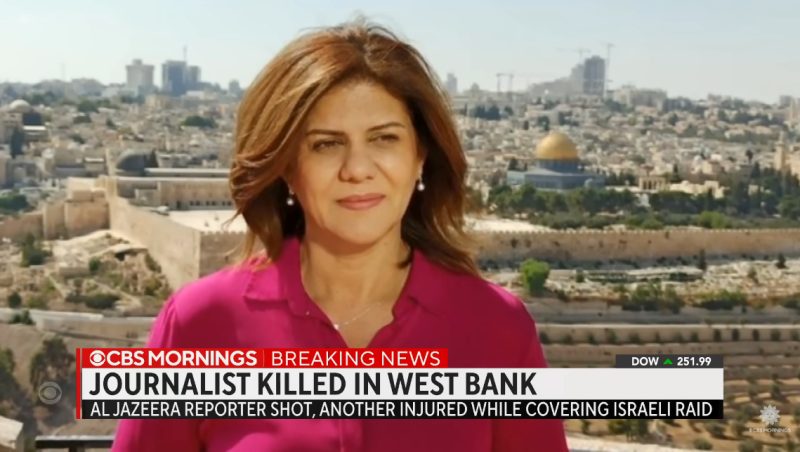 Al Jazeera TV Media Network says journalist Shireen Abu Akleh, 51, was assassinated in cold blood. A Khazar-Zionist sniper had shot Shireen in the head and killed her in cold blood while she was in full Press protective gear wear, reporting the Khazar-Zionist brutal aggression against real Semitic people cornered in refugee camps.
The media outlet Al Jazeera accused Israeli forces of "deliberately targeting and killing our colleague" on Wednesday after Palestinian journalist Shireen Abu Akleh was shot in the face while covering a raid on the Jenin refugee camp in the occupied West Bank.
In a statement, the Al Jazeera Media Network said that Abu Akleh—who worked as the publication's Palestine correspondent—was wearing a press jacket that clearly identified her as a journalist when Israeli forces shot her "with live fire."
Al Jazeera Media Network condemns this heinous crime, which intends to only prevent the media from conducting their duty. Al Jazeera holds the Israeli government and the occupation forces responsible for the killing of Shireen. It also calls on the international community to condemn and hold the Zionist occupation forces accountable for their intentional targeting and killing of Shireen.
The Zionist authorities are also responsible for the targeting of Al Jazeera producer Ali al-Samudi, who was also shot in the back while covering the same event, and he is currently undergoing treatment.
Al Jazeera extends its sincere condolences to the family of Shireen in Palestine, and to her extended family around the world, and we pledge to prosecute the perpetrators legally, no matter how hard they try to cover up their crime, and bring them to justice.
Khazar-Zionist Apartheid II regime, consisting of about 91 to 94% Khazars of Turkic-Kurdish-Slavic-Mongol DNA origin, is bizarre nuclear armed entity pretending to be Semitic. On the grounds that this bizarre entity is Semitic, they murders the real Semites (Palestinians), steals land and water resources. The Apartheid II regime has been conducting ethnic cleansing against indigenous real Semites for 74 years. The Zionist regime murders Semitic journalists routinely.
This murderous regime has the unconditional support of the U.S. and Czech governments.
The countless crimes of Zionism continue to go unpunished as politicians, judges and journalists of the so-called democratic world fear their job and the "killing of the character" routinely executed by cca 200,000 Sayanim (Khazar auxiliary agents) and numerous Zionist organizations.
Picture: Journalist Shireen Abu Akleh