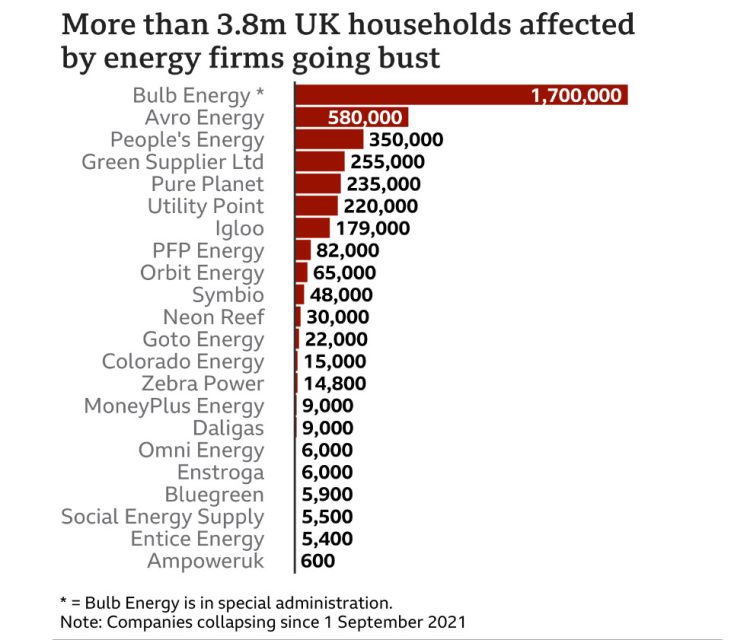 "Since the beginning of September, a total of 24 energy suppliers have now failed following a spike in gas prices."
"As suppliers continue to fall like dominoes, it's clear the market is not functioning as it should and there are serious questions for Ofgem to answer about how this has been allowed to happen," said Gillian Cooper, head of energy policy at Citizens Advice."
The collapse of Orbit and Entice comes after Bulb, the UK's seventh largest energy supplier, was handed about £1,000 per customer from the UK government to enable it to continue supplying energy.
Bulb, which has 1.7 million customers, is the largest company to date to face difficulties in recent months and was put into special administration, which will allow it keep trading for the moment with a £1.7bn loan.
It will be run by an administrator until a buyer can be found or until its customers have moved.
Bulb's size is the reason it has been kept afloat by the government, rather than its customers being transferred to other suppliers, as has happened with other failing energy providers.
Since the beginning of September, a total of 24 energy suppliers have now failed following a spike in gas prices.
As a result of a cap limiting what companies can charge their customers, some businesses have been forced to sell energy for less than they bought it for, due to rising wholesale gas prices.