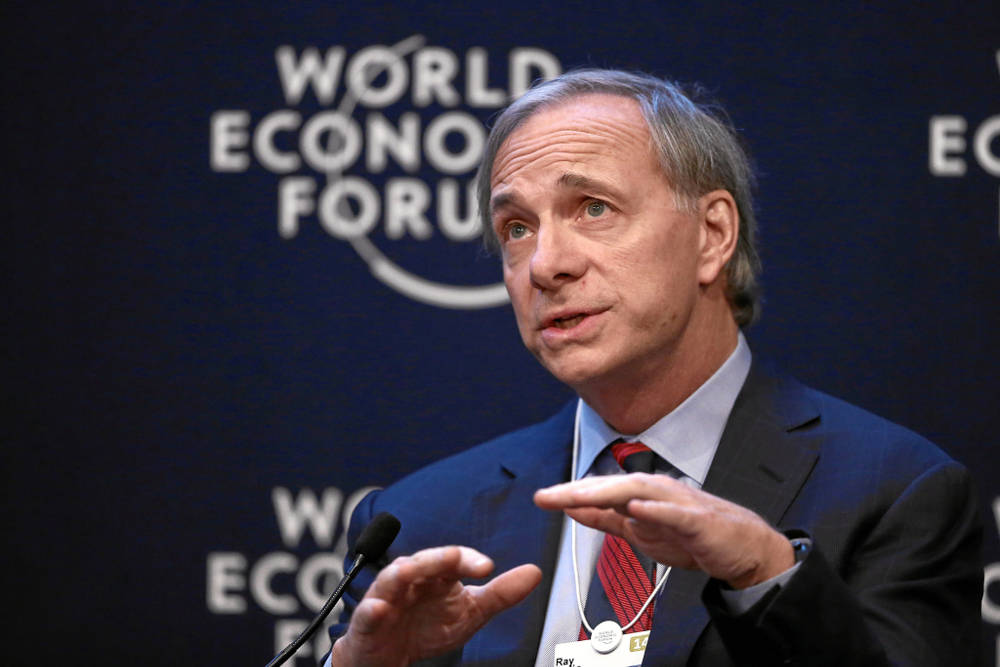 At the beginning of 2018, Ray Dalio said during one of his annual speeches at Davos that investors would feel "pretty stupid" if they were holding cash. Over the following 11 months, one of the biggest market blowups since the crisis left US stocks in the red for the year. But somehow, Bridgewater emerged as one of the best-performing firms of 2018, with one of its funds up double digits.
Two years later, Dalio has made it clear that he's worried about the state of the global economy, and he's willing to risk losing 1% of his firm's assets to make sure Bridgewater is protected.
A few months back, Bridgewater enlisted Goldman Sachs and Morgan Stanley to help structure a massive bet that will pay off if, between now and the end of the first quarter, global stocks retreat. According to WSJ, Bridgewater has amassed a giant $1 billion bet using put options.
If the S&P 500, Stoxx 50 or both decline before Bridgewater's put options expire, the firm will make money from the bet. If stocks rise, then those options will likely expire worthless.
The firm paid $1.5 billion – or roughly 1% of its $150 billion net worth – for the options, which have a notional value of $100 billion.
WSJ broke the story, but its reporters couldn't say for sure what Bridgewater's motives are. The options could constitute a directional bet in their own right, or simply a hedge against Bridgewater's sizable long exposure to equities.
According to WSJ, Bridgewater's buying up of put options had become the subject of Wall Street gossip. But as far as we can tell, Bridgewater's buying might have been spurred by the firm's appreciation for a bargain. Because as far as we can tell, with stocks climbing to fresh highs, traders haven't been as interested in hedging their positions, for whatever reason.
Some speculate that Dalio, who has espoused increasingly progressive political opinions in recent months, might have concocted a bet that will pay off if progressive Dems like Elizabeth Warren notch victories in the earliest primaries, though a Bridgewater spokesperson denied that the firm is making big bets on politics.
As WSJ points out, George Soros lost $1 billion when his firm bet on a big market drawdown in the wake of President Trump's surprise electoral victory.
So far this year, Bridgewater's performance has been mixed: the firm's macro fund has lost 2.7% through October, while its All Weather fund is up 14.5% for the period. But with the S&P 500 having achieved is longest bull run in its 90-plus-year history, it's hardly surprising that traders suspect it might have finally run out of steam, especially given the Democrats' unsettling shift to the left and pro-war.
Update: Ray Dalio completely denied this story cooked by WSJ.