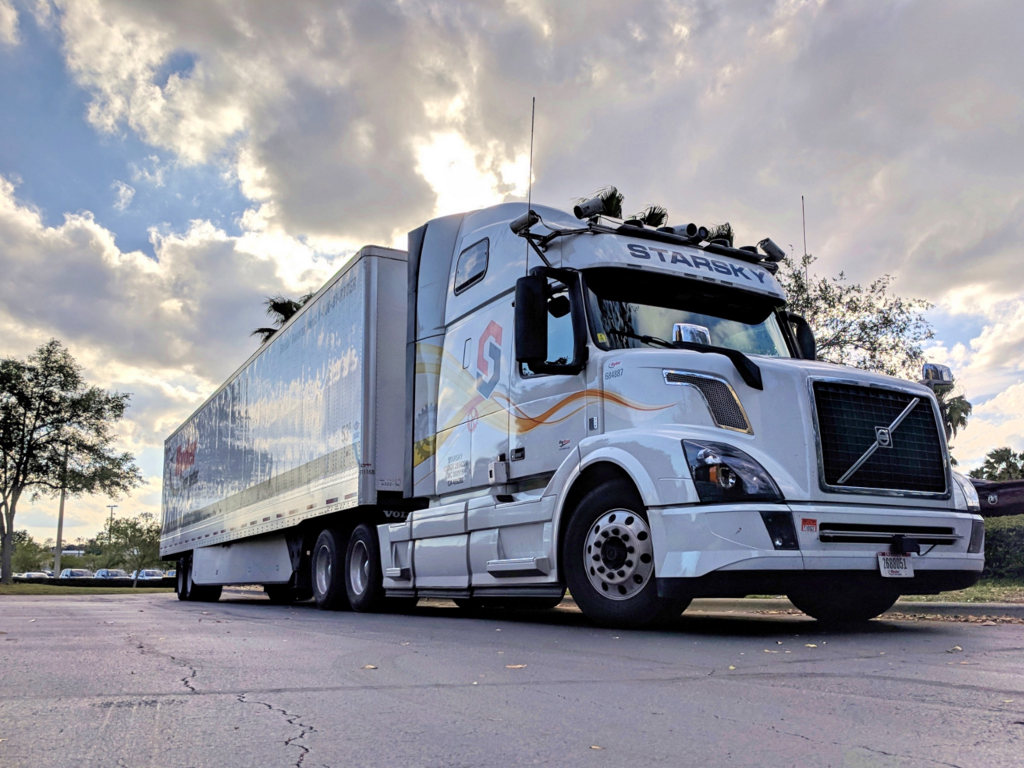 Loadsmart and Starsky Robotics Make First-Ever Digital Freight Delivery Via Autonomous Truck
According to the two companies, the integration of Loadsmart's AI-powered pricing and load matching technology with Starsky's API meant no human intervention was required. The historic initiative is part of a larger strategic partnership which paves the way for the future of trucking: autonomous brokerages dispatching freight to autonomous trucks without human involvement.
Loadsmart said it was able to connect its network of customers with Starsky's fleet of regular and self-driving trucks by integrating Loadsmart's Automated Dispatch API with Starsky's Hutch API.
As a result of the partnership, Starsky is able to dispatch its trucks automatically without human intervention, while Loadsmart can expand its ability to automate the shipping process from quoting to booking to delivery to help its clients move more with less.
"For the first time ever, the advances that seem obvious for the ride-sharing services are coming to trucking," said Stefan Seltz-Axmacher, CEO and founder of Starsky Robotics. "It's not uncommon for a traditional trucking company to have five full-time employees involved in dispatching each truck for each load. By integrating e-brokers like Loadsmart, we are eliminating all back office human intervention and making the shipment process seamless, while focusing on ensuring the safety of driverless trucks. With Starsky's Hutch API, which was also announced today, we will be able to autonomously dispatch autonomous loads on a regular basis."
Digital freight broker Loadsmart and self-driving truck developer Starsky Robotics completed what they say is the first autonomous dispatch and delivery of freight. The team paired in late July to book and deliver a load of corn in Texas with minimal human involvement.
Loadsmart digitally priced, tendered and booked the shipment. A Starsky self-driving truck picked up and delivered the raw corn to a customer in Grand Prairie, Texas.
Such partnerships are likely to expand as freight and logistics becomes increasingly digital, said Cathy Morrow Roberson of Atlanta-based Logistics Trends & Insights.
"Eventually I see the marriage between digital freight brokerages and autonomous trucks," Roberson said. "It makes sense from an efficiency and timing perspective. And it could be beneficial as the trucking market continues to struggle with attracting and retaining drivers."
Starsky plans to begin commercialization next month. To find potential problems an autonomous fleet might face, the company has a 6-person team operating a 40-truck fleet.

"We want to triple the size of that fleet by the end of the year, but we don't want to triple the size of our operations team," Seltz-Axmacher said.

He plans to build 25 autonomous trucks by the end of this year. To limit human involvement, Starsky intends to use its proprietary application programming interface, or API, to dispatch the trucks for tests.

"What we are doing is creating an API that brokers can use to negotiate for additional capacity and then hire that capacity without anybody talking to anyone else," Seltz-Axmacher said.
Intense Competition
Competition in this space is intense. I have lost track of the number of competing in this space. It includes all the major car manufacturers, Waymo (Google), Otto, Loadsmart, Starsky, Amazon, Uber, and Lyft.
That's what guarantees success, sooner rather that later, despite the poor current technology of Uber.
Robertson gets it correct with her assessment "Autonomous trucks will become more the norm than the exception."
Inner-city truck deliveries will still require drivers, for a period of time, but rural deliveries like the one above and hub-to-hub interstate deliveries by autonomous truck will soon be standard.
Benefits
Accident rates will plunge. Nearly all truck accidents are driver error.
Insurance rates will drop.
The cost of the driver will be eliminated. No more union dues.
Trucks can drive 24-7. They do not have to sleep.
The benefits are overwhelming. Tremendous benefits coupled with intense competition ensures success. Within a year or two of national regulator approval, autonomous semi-truck deliveries will be the norm.