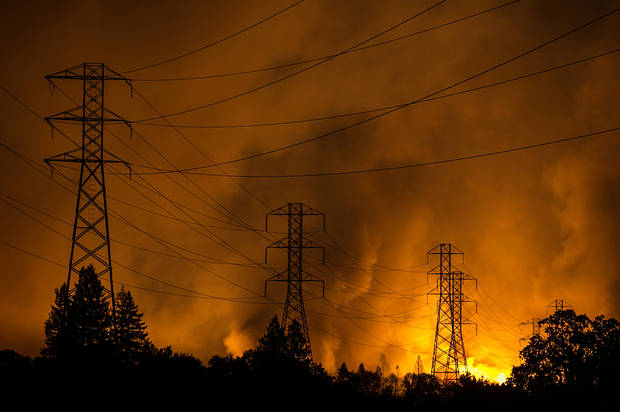 PG&E Corp. equipment started more than one fire a day in California on average in recent years as a historic drought turned the region into a tinderbox. The utility's unsuccessful efforts to prevent such blazes have put it in a state of crisis.
The fires included one on Oct. 8, 2017, when nearly 50-mile-an-hour winds snapped an alder tree in California's Sonoma County wine country. The tree's top hit a half-century-old PG&E power line and knocked it into a dry grass field, a state investigation found. The line set the grass ablaze, sparking what became known as the Nuns Fire.
It was among at least 17 major wildfires that year that California investigators have tied to PG&E. Data from the state firefighting agency, Cal Fire, show the fires together scorched 193,743 acres in eight counties, destroyed 3,256 structures and killed 22 people.
Sunday evening, PG&E announced that Chief Executive Geisha Williams was stepping down and that John Simon, the company's general counsel, would serve as interim CEO until a replacement is found. On Monday, the company said it plans to file for bankruptcy protection by the end of the month.
PG&E faces billions of dollars in legal claims, the specter of bankruptcy, a federal judge forcing his way into utility operations, the possibility state regulators will break it into pieces, and potential state criminal charges including homicide, due to its continued inability to stop the fires from starting.