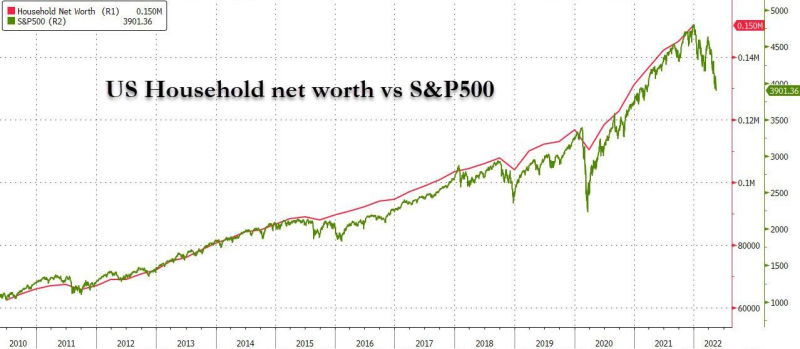 Since the start of the year, the S&P 500 Index is down 18%, the Nasdaq 100 has lost 27% and a Bloomberg index of cryptocurrencies has plunged 48%. That all amounts to "a wealth shock that is set to drag on growth in the coming year," JPMorgan economists led by Michael Feroli wrote in a note.
US household net worth – which consists almost entirely of financial assets (and a smattering of real estate) – tracks the S&P with an almost 1.000 correlation. Well, that means that with the S&P briefly entering a bear market on Friday and sliding approximately 20% from its all time high, reached just a few days into 2022 when US net worth hit $150 trillion, it means that US households have seen about $20 trillion in net worth disappear in 2022 under Joe Biden, a loss far greater than under any other US president in history.
Billionaires were the biggest winners of 2020 and 2021. Now they're losing more than almost everyone else. The Bloomberg Billionaires Index, a daily measure of the wealth of the world's 500 richest people, has dropped $1.6 trillion since its peak in November.