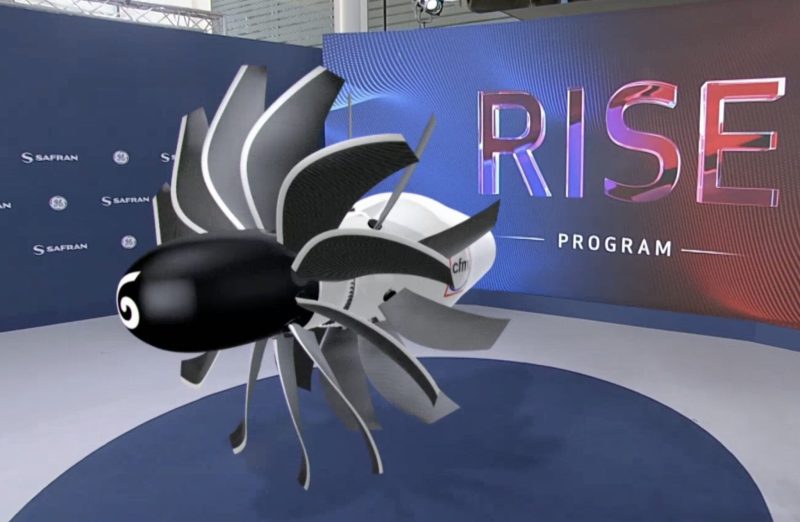 The CFM partnership aims for RISE to secure a -20% fuel burn reduction via the engine structural aspects alone, including a geared architecture, with further reductions from lower-emissions fuel such as sustainable aviation fuels (SAF) or hydrogen.
RISE — Revolutionary Innovation for Sustainable Engines — is set to target unducted, open fan architecture and hybrid-electric propulsion as key parts of a 300-component roadmap, answering many of the fundamental questions around next-generation engines.
The programme, says the partnership, expects ground testing to start towards the middle of the 2020s and "will demonstrate and mature a range of new, disruptive technologies for future engines that could enter service by the mid-2030s". That puts it right in the path of Airbus' zeroE hydrogen powered aircraft, and indeed the partnership confirms that the RISE engines will be designed to be able to use liquid hydrogen in addition to current fuels.
Responding to a question from Runway Girl Network, Safran chief executive officer Olivier Andriès noted that RISE "does not specifically target one single airframer programme. This next-generation engine will be capable of being operated with 100% sustainable fuels, including hydrogen. It's important to say that 90% of the engine would remain the same, whatever the fuel is."
GE Aviation chief executive officer John Slattery elaborated that "when we talk about a 20% reduction in fuel burn, that's a reduction comparable to today's kerosene A-1. If we were to put just SAF into that new engine, that would reduce CO2 by 80%. And if it was hydrogen, which is kind of the nirvana, that would reduce our CO2 emissions by 100%."
The partnership confirms that RISE will also be able to run on 100% sustainable aviation fuels, up from 50% with current engines, and Slattery says that the partnership is working to develop standards to make SAF fully drop-in to replace Jet A-1 aviation kerosene.
Fundamentally, Slattery said, "the engine will be hydrogen-enabled, but we are here to serve our airframer customers. We'll work to their timeframe."