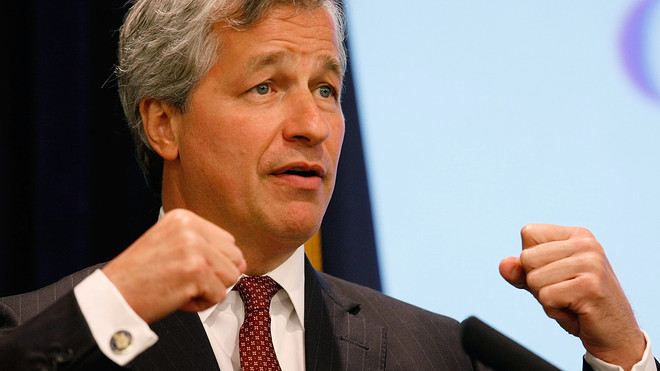 Ever since JP Morgan CEO Jamie Dimon first denounced bitcoin way back during the heady crypto-rally of 2017 (shortly before analysts revealed that JP Morgan's asset-management arm was seemingly buying the dip on behalf of its wealthy clients via a Scandinavian ETN), teams of strategists employed by the bank have produced a steady stream of bearish reports warning its clients about the risks of investing in bitcoin.
But in a sudden reversal, JPMorgan's traders – once threatened with firing should they dare touch bitcoin – will soon get their chance to trade the pioneering cryptocurrency on the bank's behalf. In news that's hitting just as bitcoin prices climb back from a Sunday dip, CoinDesk reported Monday morning that JP Morgan Chase will soon launch its own actively managed bitcoin fund, making JPM the latest US megabank to embrace hawking crypto assets (rather than struggling to co-opt blockchain technology for its own purposes).
The fund, which could launch as soon as this summer, will reportedly involve institutional ship NYDIG, which will serve as JPM's bitcoin custody provider. In a notable break from other passively managed bitcoin funds offered by Galaxy Digital and Grayscale, JPM's crypto fund will be "actively managed" (allowing the bank to charge higher fees).
Like those other funds, the JP Morgan fund will allow institutions and wealthy clients to buy exposure to bitcoin without actually having to buy, store and secure their own coins. The fund will be offered to the bank's "private wealth" clients, which mostly caters to wealthy individuals and family offices.
JPM has come close to offering bitcoin-linked products before. Back in March, its investment bank issued its first crypto-adjacent investment product, a structured note tied to the performance of bitcoin proxy stocks like MicroStrategy and Riot Blockchain.
Now that the bank has been exposed for quietly accumulating its own bitcoin position, we couldn't help but notice that JPM – which was bashing bitcoin as recently on Friday – hasn't published a new note arguing that downward momentum might reemerge. Dimon infamously warned that he would "fire in a second" any JPM trader who touched bitcoin. "If you're stupid enough to buy it, you'll pay the price for it one day," he said at the time. Though Dimon quickly walked back these comments at the time, we would love to hear JPM explain away these comments while pitching its new bitcoin product to some of its most lucrative private clients.
We're also curious to see what fees JPM charges clients for this new actively managed product, which we imagine will put Coinbase's commissions to shame.
Source: JPM, ZH