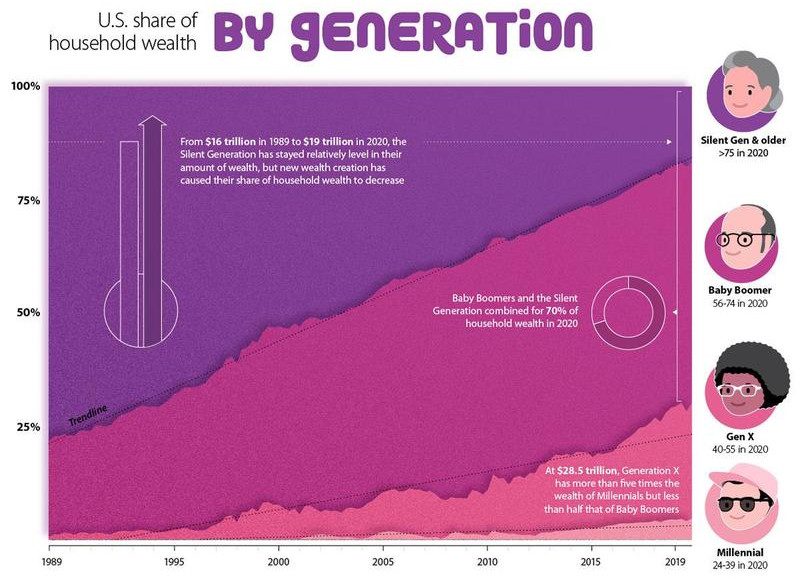 As young generations usher into adulthood, they inevitably begin to accumulate and inherit wealth, a trend that has broadly remained consistent. But, what has changed recently is the rate of accumulation.
In the U.S., household wealth has traditionally seen a relatively even distribution across different age groups. However, over the last 30 years, the U.S. Federal Reserve shows that older generations have been amassing wealth at a far greater rate than their younger cohorts.
Relative to younger generations growing up, the Silent Generation and Greatest Generation before them have seen a decreasing share of household wealth over the last 30 years.
However, the numerical levels have been relatively stable. For these combined generations, total wealth has gone from $16 trillion in 1989 to $19 trillion in 2019, with a peak of $27 trillion in 2007. Considering this cohort has understandably shrunk over time—from an estimated 47 million to 23 million in 2019—their individual shares of wealth have actually increased.
Immediately following are the Baby Boomers, who held more than half of U.S. household wealth towards the end of 2020. At $59 trillion, the generation holds more than ten times the amount held by a comparative number of Millennials.
With $29 trillion held in 2019, Generation X has also been gaining in wealth over the last 30 years. It's good enough for five times the wealth of Millennials, though at just $440k/person, they've fallen far behind Baby Boomers in rate of growth.
Finally, trying to catch up to their older cohorts are Millennials, who held the least amount of household wealth ($5 trillion) for the greatest population (73 million) in 2019, an average of just under $69k/person.
For a direct comparison, it took Generation X nine years to climb from their start of 0.4% of household wealth in 1989 to above 5%, while Millennials still haven't crossed that threshold. But it's not all doom and gloom for Millennials. Their rate of growth is starting to rise, with the generation's level of wealth climbing from $3 trillion in 2016 to $5 trillion in 2019.