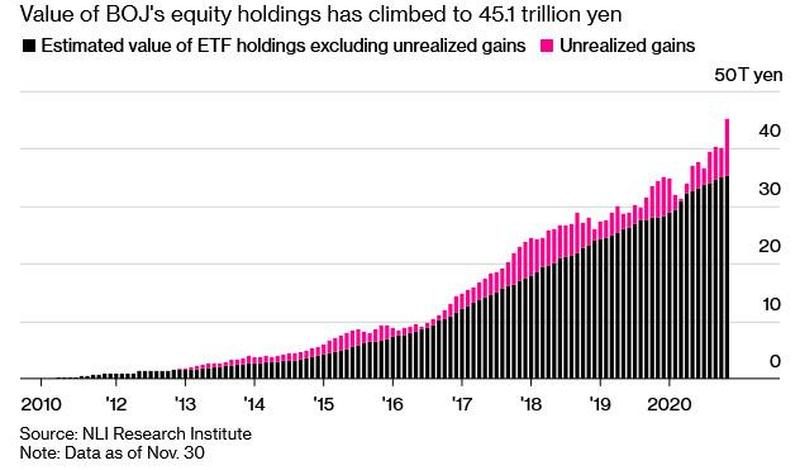 Bank Of Japan Is Now The Biggest Owner Of Japanese Stocks With $434 Billion Portfolio. The combination of a state-run institution, the BOJ, and the country's representative public pension fund, the GPIF, buying up local equities feels distorted.
The Japanification of Japan continued to boldly go where no other central bank lunatic has gone before, with this surreal one-way voyage crossing a historic milestone in November when according to estimates by Shingo Ide, equity strategist at NLI Research Institute, the Bank of Japan – which unlike most developed central banks long ago dropped any pretense of not manipulating equity markets and has been buying ETFs and REITs for over a decade – took over as the biggest owner of the nation's stocks, with the total value of its holdings climbing above a record 45 trillion yen.
On the back of massive ETF purchases to prop up the Japanese stock market amid the pandemic this year combined with subsequent valuation gains, the value of the BOJ's Japanese equity portfolio has hit 45.1 trillion yen, $434 billion, in November.
That, according to Bloomberg, marks the first time that the central bank's holdings have eclipsed those of the other Japanese market whale, the world's largest pension fund the Government Pension Investment Fund, whose equity holdings Ide estimated at 44.8 trillion yen last month.