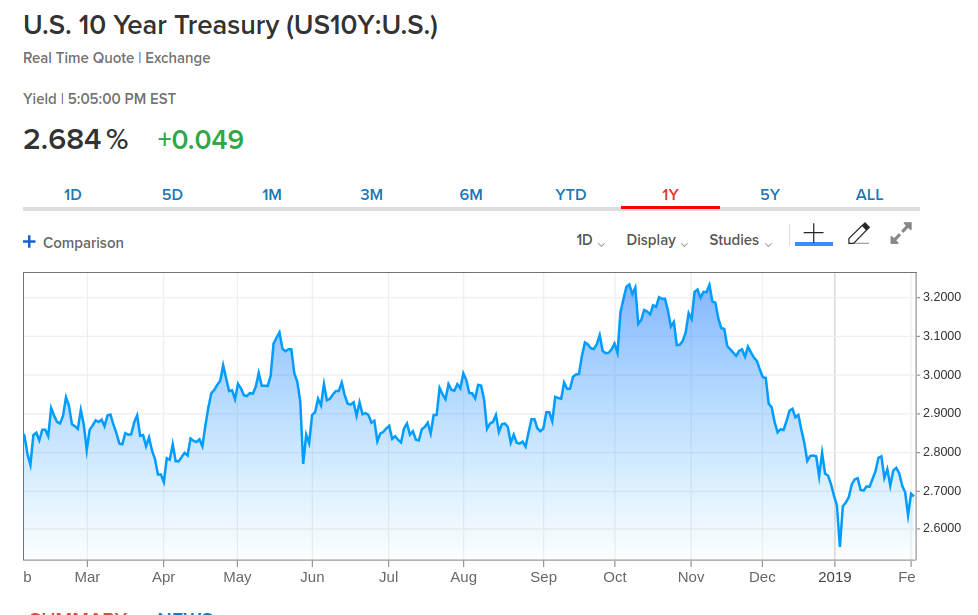 Bonds contend with a turbulent week.
Treasury yields rose sharply Friday as a round of solid economic data from U.S. factories and households helped to pare back the bond-market's midweek rally, after the Federal Reserve signaled a more dovish policy path.
The 10-year Treasury note yield TMUBMUSD10Y, was up 5.9 basis points to 2.690%, marking its biggest daily jump since Jan. 4. Friday's action helped to trim the benchmark maturity's weeklong decline to 6.3 basis points, its largest decline in four weeks.
The 30-year bond yield TMUBMUSD30Y, was up 2.7 basis points to 3.030%, paring its weeklong fall to 3.2 basis points. The 2-year note yield TMUBMUSD02Y, climbed 5 basis points to 2.508%, cutting its weeklong decline to 9 basis points, its largest such move in more than a month. Bond prices move in the opposite direction of yields.
The nonfarm-payrolls report for January showed the U.S. economy added 304,000 jobs, well above the 172,000 reading expected from economists polled by MarketWatch. The unemployment rate rose to 4%, and average hourly earnings were up 0.1%.
The report indicated that there was plenty of slack remaining in the labor market, with wage gains subdued as the labor-force participation rate ticked higher to 63.2%, its highest since Sep. 2013.